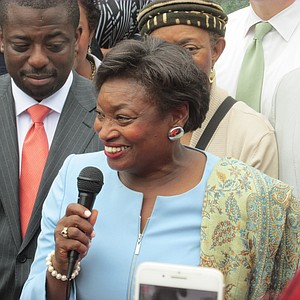 Local labor unions have jumped to New York State Senate Democratic Leader Andrea Stewart-Cousins' defense after a hedge fund manager and political donor made racially charged comments about her in a Facebook post.
Earlier this month, Cousins said that Gov. Andrew Cuomo superficially judged her for being a Black woman. She said that she represents the suburbs more than State Senator Jeffrey Klein did. Cuomo said that Klein, who's led the Independent Democratic Council that's aligned with State Senate Republicans, had a better understanding of the suburbs than other Democrats. He suggested that they listen to Klein when strategizing on how to win more elections.
Hedge fund manager, charter school supporter and Cuomo donor Daniel Loeb wrote in a Facebook post that Cousins has done "more damage to people of color than anyone who has ever donned a hood." Loeb, who's also the board chairman for Success Academy, has since apologized and deleted the post, but the damage was already done.
United Federation for Teachers President Michael Mulgrew called out Loeb for his comments.
"Senator Stewart-Cousins has been a tireless champion for the school children of this state, particularly the neediest and most vulnerable," said Mulgrew in a statement. "She has never wavered in her support for public schools. Attacking her—particularly in such incendiary terms—is a despicable act."
32BJ SEIU President Hector Figueroa said Loeb's not only racist but also anti-labor.
"Daniel Loeb's racist remarks against Senate Democratic Leader Andrea Stewart-Cousins must be firmly rejected by anyone with a sense of decency," stated Figueroa. "These kind of despicable comments are fueled by racist and anti-union sentiments that don't belong in New York or anywhere. One percenters like Loeb are borrowing a page from the oldest anti-workers playbook: divide and conquer."
Figueroa concluded, "It's time for the IDC to stop falling into their trap and join the rest of Democrats to focus on improving the lives of all New Yorkers, not allow hedge funds and others in the 1 percent to keep dividing working families."
In the aftermath of the alt-right rally in Charlottesville, Va., people such as 1199SEIU President George Gresham have said that Loeb's comments look even worse and have called for his job.
"The union shares the outrage of elected officials of all races, colors and creeds, and echoes the call of the Rev. Al Sharpton and others for Mr. Loeb's Immediate resignation as chair of the Success Academy board," said Gresham. "Should he elect to remain as chair of the Success Academy, we will stand with those who call for a suspension of state funding for the network pending a satisfactory outcome in this matter. In the case of Daniel Loeb, a deleted post and an apology aren't nearly good enough. We are not prepared to stand idly by while those who speak for us are slurred."