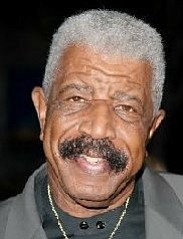 Did you know that July 17, 1944, during WWII, 200 Black sailors were killed in explosions that were the fault of the U.S. government? These and others Black sailors were loading munitions onto ships, a job that the government did not train them to do and a job that the white commanding officers were betting on to see who could do it faster. When explosion after explosion caused Black sailors to lose their lives, 50 Black sailors who survived refused to continue loading the munitions until the government train them properly. Those 50 sailors were labeled as mutinous and were imprisoned and treated very harshly. This incident is the focus of "Port Chicago 50," a play opening tonight at the National Black Theatre at 2031 Fifth Avenue
and 125th Street.
Co-written by David Shackelford and Dennis Rowe, with Rowe as the director and producer, the play will only run tonight through Saturday.
Hal Williams, veteran actor of films, TV and theater, leads the cast as Freddie Meeks, the only man of the 50 men to be pardoned by President Bill Clinton. Williams recently took the time to speak to the AmNews about this project and its importance—especially with the current environment in this country —and his role.
Discussing how he got involved in this project, Williams said, "I got a call from my former stuntman and stand-in, [who] called me and said people were trying to find me. I was going to do business in LA, and they presented the project to me. I had heard about it years ago but never all the details that involved the incident. I came on board hoping that they would be able to lock into a theater. I was willing to be part of the project, it's something everyone should know about. I was sorry that Freddie Meeks recently passed away, so I didn't have a chance to talk with him. My character is a strong man. He was part of the group of 50 who stood up and tried to make a difference in the way they were treated. They were charged with mutiny and what they did wasn't mutinous. They said, 'Train us because we want to do this, but train us properly or something terrible is going to happen.'"
Reflecting on his acting career, Williams shared, "I've been an actor for 46 years. I came to California a single family parent with three small children to pursue my dream. I first did a public service film. I've always done theater and been in it since I was a kid. I gave myself three years, and at the end of three years I was doing 'Sanford & Son' in 1971."
Describing his process to prepare for this role, Williams stated, "I went online and did research. I learned as much as I could about this event in history. I grew up in
Columbus, Ohio by the U.S. Army base Fort Hayes. I grew up during WWII and in a military atmosphere in my hometown. I know what happened during that era, and I know what the mood of the country was. It was more patriotic. My parents went to work in the factories turning out products for the military. I didn't know at the time this incident took place. I didn't hear anything about it in my household."