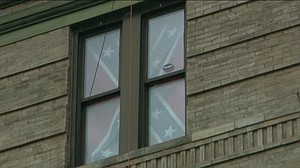 A person living in the East Village hung up Confederate flags in the windows of an apartment, and the locals are not happy about the display.
The NYPD confirmed that a person was trying to throw rocks at the windows on the sixth floor on Wednesday.
A colonial-era American flag and the flag of Israel were also displayed in the windows of the E. 8th Street apartment.