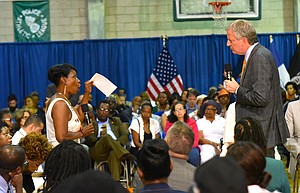 Mayor Bill de Blasio held his 31st town hall meeting in Harlem last week. On the campaign trail for re-election, the mayor, along with several commissioners, took questions from Upper Manhattan constituents at the Harlem Police Athletic League's gymnasium.
Participants, who RSVP'd to attend the town hall, were chosen at random by Manhattan Borough President Gale Brewer and City Council Member Bill Perkins. During the longer than three-hour meeting, de Blasio took questions on housing, homelessness, transportation and quality of life issues.
"I've had an amazing opportunity to go to communities all over the city and spend real time listening to people's concerns and having a real back and forth," he said.
Before the meeting, de Blasio sat down with the AmNews to discusses several issues affecting Black New Yorkers.
The town hall meeting took place just days after an NYPD officer fatally shot a 32-year-old Black man, Dwayne Jeune, in the Bronx. Jeune's mother called officers because her son was acting erratically. He allegedly waved a flat-ended knife at officers before being Tasered. When he didn't back down, an officer fatally shot Jeune five times in front of his mother.
De Blasio said at the time he didn't know every detail of the issue but said the shooting was "painful" because something went wrong in Jeune's life that wasn't treated effectively. He mentioned his wife, First Lady Chirlane McCray, who works with mental health advocacy.
"Something obviously went wrong a long time ago, and what I want to get to is we have to get at the root causes here," he said. "This is what my wife is trying to do with the Thrive NYC initiative. There are many thousands of New Yorkers with untreated mental illness."
Addressing the police's actions, de Blasio said the investigation is ongoing and said the officer involved followed police protocol because the call did not specify the officers were being faced with violence.
"Based on what we know now, it does appear every protocol was followed and that's why we have full investigations," he said. "We have been continuing to train more and more officers in how to handle emotionally disturbed people. That has been helpful, but we have a lot more work to do."
When asked about police and community relations, de Blasio admitted there is a lot of work to do but said there have been changes.
"Stop and frisk is down 93 percent since we took office, complaints against officers are way down [to] the lowest they've been in 15 years. Neighborhood policing is much better model. More than 50 percent of our officers live in the five boroughs," he said. "I understand why a lot of people are not only concerned but, in many cases, skeptical because of decades of injustice, and my job is proving that these changes can take hold."
On the issues of affordable housing, the mayor called the issues a "crisis" that he says the city is expanding resources on, but thousands aren't able to be reached right away.