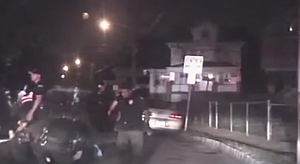 Six Maplewood, N.J., police officers along with Chief Robert Cimino and Captain Joshua Cummis have been disciplined after a video was released of the officers making racist comments and controversial arrests, according to reports.
Video footage captured during the Fourth of July weekend in 2016 shows the officers responding to a fight that broke out after a fireworks show. Four teens were reportedly arrested; however, witnesses said the officers began racially profiling others on the scene while trying to move the crowd to the Irvington township.
Officers on the video can also be seen kicking and punching some of the 150 to 200 youth who were on the scene and used pepper spray on them. The video and audio recordings of what happened that night were released by the Maplewood Police Department this July.
In the year since the incident happened, Black residents have been demanding that the officers involved be disciplined. During the recent National Night Out, residents protested against the police. Parents are calling for the resignation of Cimino and Cummis. An independent consulting firm was hired to investigate the incident.
"Black children were pushed toward the Irvington border with the plan of sealing them out of their own town," the South Orange-Maplewood Black Parents Workshop said in a statement. "[The] teens were not unruly…but were still corralled and pushed out of the city by our police."
In a statement, the Maplewood Police Department said the township committee voted to place Cimino on paid leave for 60 days and Cummis on leave through the end of the month.
The consulting firm's report is expected to be completed by September. Parents are demanding that the state attorney general also conduct an investigation.