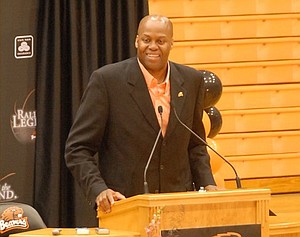 The off-season noise that surrounded the Knicks through the month of July has died down as the franchise quietly shapes its front office. As Carmelo Anthony stays put for now despite his reported desire to be traded to the Houston Rockets, the Knicks have nonetheless remained active.
Although official announcements have not been made, it is expected that onetime Knicks scout Gerald Madkins will be installed as the team's assistant general manager and Craig Robinson, the older brother of former First Lady Michelle Obama, will be hired as an executive to serve in a player development capacity.
Madkins, 48, was brought on as a scout by former team president Isiah Thomas in 2003 and worked in that role until 2007. He most recently was the assistant GM for the Los Angeles Clippers.
Robinson, who was a college teammate of current Knicks president Steve Mills at Princeton, where he was a two-time Ivy League Men's Basketball Player of the Year, had held the title of vice president of player and organizational development for the Milwaukee Bucks since 2016.  The 55-year-old Robinson is also a former head coach for Oregon State and Brown University.
One of the most overlooked and pivotal aspects of professional basketball is the development of individual players. The NBA is strewn with first round picks who have not shown marked improvement during their NBA careers, which are often short-lived. Conversely, later round picks or even undrafted free-agents have flourished under exceptional player development programs and high quality coaching. Thus, Robinson could have a substantial impact on the organization.
In 1988, Anthony Mason was a third round pick and John Starks went un-drafted. The pair ultimately became all-stars with the Knicks, as well as cornerstones of some of the most successful and celebrated teams in the franchise's history as a result of the relentless guidance of head coach Pat Riley and the teaching by the Knicks' player development staff.