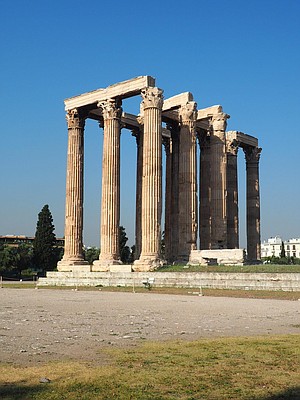 What to do
If you're looking for a nontraditional, informative way to see the most famous landmarks of Athens in one day, I highly suggest Alternative Athens' Greek Mythology tour. For 55 euros, an English-speaking local will walk you around to several sites highlighting the history as well as ancient Greek myths about the gods and goddesses who once inhabited the area. The days in Athens can be extremely hot, so at times the tour seemed to drag on, but once I had completed it and realized how much I had seen and learned over the course of one morning (from 9 a.m. to approximately 2 p.m.), I was thankful I had chosen to explore in that way. There is no way I would have covered as much if I had simply walked
around on my own.
If you have some time to kill, make your way over to the flea market in the Monastiraki District. There you'll find a ton of unique pieces such as artwork, jewelry, hand-painted dishes and other interesting artifacts. The people are friendly, and most things are
priced reasonably.
Also, take time to admire the vast amount of street art throughout the city. Literally almost every wall is covered in some mural or graffiti, making the city extremely colorful and eclectic. If you're really interested, book a walking tour that will go through and highlight the most notable works while giving you information on the artist and their inspiration.
Megan Pinckney (@shadesofpinck) is a retired beauty queen turned lifestyle blogger who loves exploring the world and writing about it.