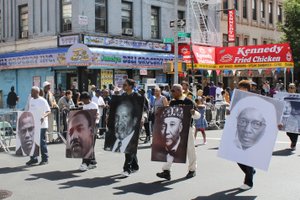 Dubbed as the "Largest Black Parade in America," the 48th Annual African-American Day Parade is set to take place Sunday, Sept. 17, at 1 p.m. in Harlem.
The parade starts at West 111th Street and Adam Clayton Powell Boulevard and continues to West 136th Street. Black dignitaries and celebrities along with kings and queens of Black organizations are being featured.
Floats and marching bands are coming from 12 states. This year's parade will honor African-American health professionals. Grand marshals include Dr. Jeff Gardere, Dr. Carol Brown of Memorial Hospital, Dr. Rob Core of Kings County Hospital and Dr. Aletha Maybank of the New York City Department of Health.
Go to www.africanamericandayparade.org for more information.