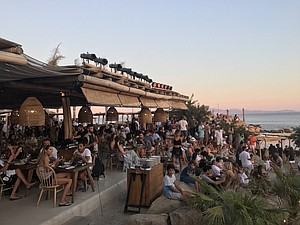 How to get there
You can get to the island of Mykonos by air or by sea! If you're looking for an affordable flight that takes less than an hour, take one of Aegean Airlines' daily flights from Athens to Mykonos Island National Airport. You could also travel by sea on a ferry to Mykonos from a port in Attica. In a little less than three hours, or more if they're going through technical difficulties like they were the day of my trip, you can sail on a massive catamaran, operated by Seajets, along with a few hundred other people for as little as 60 euros in economy class. The ferry stops at several different islands, but in my opinion does not produce the sights worth prolonging the journey. If you only have a few days to spend in Mykonos, don't waste time taking a ferry.
How to get around
One of the first things you need to do once you arrive to Mykonos is decide how you'll maneuver around the island. This island isn't the type of place where you'll want to spend all of your time at your hotel, no matter how dreamy it is. Don't plan to rely on taxis! According to my hotel's concierge, there are only 33 taxis on the entire island—but that would explain why an average 15-minute ride could run you 40 euros. There are a few rental car companies located at the airport, but honestly most streets are way too small for a car (even a little Fiat). Opt for a smaller motorized vehicle instead. Think ATVs, four-wheelers or mopeds (a motorcycle license is needed to rent one of these vehicles, and for good reasons). There are several rental companies for any of those options. I suggest choosing a shop near where you are staying, and making a reservation in advance.
Where to stay
While vacationing in Mykonos, you should stay in a boutique hotel. In addition to being treated like you're their most important guest, boutique hotels really excel at anticipating which activities their guests will want to partake in. The most valuable part of a boutique hotel is its concierge. We stayed at the Palladium Boutique Hotel, which was just a five-minute four-wheeler drive away from one of the island's most popular beaches, Platis Gialos. The hotel's classic white Greek Isle architecture is given a modern feel with silver accents and neutral tones. The hotel is surrounded with breathtaking views of the bright blue sea, a variety of other all-white structures and dry mountainous terrain. We stayed in an upgraded top-floor standard room with a balcony view (starts at $602), and a one-bedroom suite with access to a private swimming pool (starts at $1,068). The manicured landscape on the hotel's grounds adds a splash of color to the island's consistent blue and white theme. But what really set the Palladium's standards was its staff. They were all beyond helpful and so accommodating.
Where to beach
One beach you should be sure to visit while in Mykonos is Panormos Beach. Located on the north end of the island in a gulf, Panormos Beach has nothing but views of seaside/mountainside mansions, anchored yachts and crystal clear blue water. However, the gem of this beach is the Principote Beach Club, an upscale beachfront lounge made up of the most beautiful crocheted umbrellas. Here you can spend the day reclining in a beach chair, lounging on a beach bed or dining at a table set for a party. Staff is there to accommodate any need you may have, and trained masseuses walk around offering massages. You can order a cocktail, an expensive bottle of your favorite vino or gourmet beach food while you enjoy the DJ mixing the latest pop hits in English, Spanish, EDM, Bollywood and three other genres I was unfamiliar with. This beach is the perfect place to be when the winds on the islands pick up, because the mountains shield you from them. Out front there is a valet filled with specialty Jeeps and Range Rovers, and the property has a really fashionable retail store for its guests to shop.