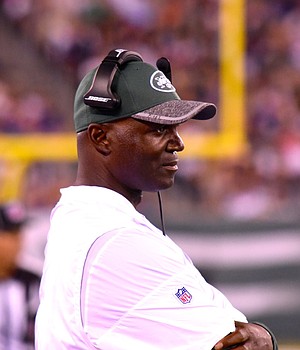 The New York Jets training camp hasn't been open a full week yet, but with all that's going on, filling the open positions, firming up the offense, thoughts of CTE, injuries, necessary improvements, the heat, a new woman coach, players progressing into actual football shape and, oh yeah, the team's owner awaiting confirmation to be appointed to the president's team of ambassadors, Jets quarterback questions prevail, dominating the conversations. 
How do you plan to use them during training camp? How many reps will they each get? What's your level of confidence in them?
"Mine is good," said Todd Bowles, the Jets head coach. "They've been working hard. They've all been learning and studying. We just have to see them play."
What has he seen from this one? What has he seen from that one? What about rotations? When will you decide on who'll start?
"I don't have a timetable on it," said Bowles. "As soon as it sorts itself out, I'll give you a decision." He further explained the process of the opening week for his QBs, knowing that one of his three, veteran journeyman Josh McCown, 38, Bryce Petty, 26 and Christian Hackenberg, 22, will shine, be more outstanding, show more promise than the other as time progresses. He's looking to see who'll become more consistent, who'll make the plays.
"As practice goes on, and the week goes on, we'll see," Bowles stated, also noting that the entirety of the team is his concern. Everyone is being evaluated. "It's going to be a process."
The Jets' total of five wins last season, combined with their current roster of unproven quarterbacks, mixed with the number of young players, have fans and pundits questioning just how successful the Jets can be in 2017-18. 
They're younger, "but they're very talented," Bowles said.
He added, "We understand what's been said, but that doesn't concern us because we just worry about what we can worry about. We just keep moving forward and working toward opening day."
Bowles' mindset extends further than the 16-game regular season, into postseason play. He notes that dissenters provide him with extra motivation, not motivation. 
"Obviously, you're motivated, and we're trying to win a Super Bowl anyway, no matter what," he said. "When you have adversity, and people say you can't do things as an athlete or as a competitor, you love challenges. You come to work every day intent on getting better and proving everybody wrong."
For the next two weeks or so, as they get the offense in, Bowles is confident that things will clear up for everybody. "It'll start to take care of itself," he predicted.