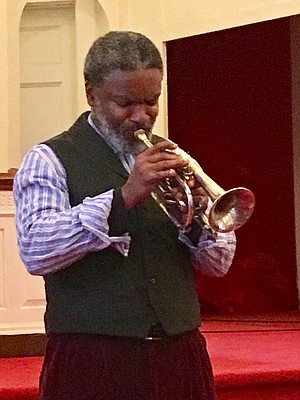 International Jazz Day will be celebrated as far away as Antarctica. The continent that contains 90 percent of all the ice on the planet and is the coldest. No fear. We hear the penguins have put together a dynamic bebop band for the occasion.
If you are not in the mood for traveling, the International Communications Association and the Dwyer Cultural Center (258 St. Nicholas Ave. at 123rd Street) will be celebrating the culmination of Jazz Appreciation Month (April) with its fourth annual International Jazz Day in Harlem.
The big jazz day from 3 p.m. to 7 p.m. will celebrate the 100th birthday of jazz icons Dizzy Gillespie, Buddy Rich, Ella Fitzgerald, Thelonious Monk and Mongo Santamaria, with a swinging dance, listening and viewing party; a jazz themed exhibition of noted artists; and the 100th anniversary of the first jazz recording released, in 1917.
This writer will also be honored and will present a multi-media presentation of the five celebrated jazz icons.  
Each guest will receive a 24-inch x 36-inch complimentary Thelonious Monk commemorative poster titled "Himself" by noted artist Gina Sampson.  
Tickets are $20. For more information, call 212-222-3060 or thedwyercc@gmail.com.
Lawrence D. "Butch" Morris, the cornetist, composer and conductor who died in 2013, was one of the musical geniuses of our time. His conducting of ensemble music from avant-garde to contemporary classical music and even poetry matured into a distinctive method of real-time orchestral composition, which he called Conduction.
Morris' theory of Conduction extended into art, dance, poetry and cinema, which he introduced to communities of international musicians.
"The Art of Conduction" is a theoretical introduction and practical guide to Conduction. During the last years of his life, Morris worked to document his method in this book form. His untimely death left it unfinished. The manuscript was finally completed under the editorship of Daniela Veronesi.
May 1, at the Karma Gallery (188 E. Second St.) from 5:30 p.m.to 8 p.m., there will be a book presentation by Alessandro Cassin and Veronesi of Morris' "The Art of Conduction—A Conduction Workbook."
There will be a screening of Vipal Monga's documentary "Black February" and performances by Hard Edge featuring the cornetist/leader Graham Haynes, the guitarist Brandon Ross and bassist Stomu Takeishi. For information, call 212-390-8290.
Later that evening from 9 p.m. to 11 p.m. at Morris' favorite performance spot, Nublu (151 Avenue C, Lower East Side), the Nublu Orchestra will perform, conducted by Graham Haynes with Brandon Ross and the drummer Kenny Wollesen, featuring the saxophonist Ilhan Ersahin, percussionist Mauro Refosco, multi-reed player Doug Wieselman, bassist Michael Kiaer and texts by Alan Graubard. For more information, call 646-546-5206.
The alto saxophonist Carl Bartlett Jr. was just beginning to kick up his heels on the jazz scene when we first met in 2011. Since then he has been quite busy developing his chops and reputation.
May 4, the young bandleader, composer and saxophonist continues his rich escalating journey as The Carl Bartlett Jr. Quartet performs at the small, famed jazz haven, Smalls Jazz Club (183 W. 10th St.).