Barack holds town hall meeting in Chicago
Herb Boyd | 4/27/2017, 12:25 p.m.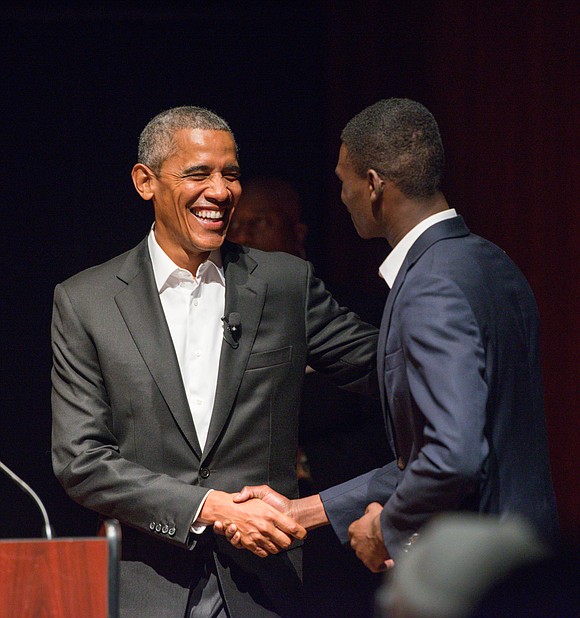 Looking rested and younger than ever—despite the increased gray hair—former President Barack Obama sat onstage in the middle of a youthful roundtable at the University of Chicago Monday. And if President Trump is obsessed with Obama and his legacy, his name was not mentioned as Obama fielded questions and asked a few of his own. "What's been going on while I've been gone?" he asked the students.
He asked this question with his characteristic smile, which, like the rhetorical question, was not missed by his young interrogators.
Portions of the session were carried on MSNBC and CNN, and Obama touched on several key issues that have been consistently part of the 24-hour news cycle, including climate change, inner city violence, criminal justice reform, the media and politics in general.
"These problems are serious," he said, "they are daunting, but they are not insoluble."
He placed much of the blame for the lack of progress on an absence of solid leadership. These problems must be confronted, he charged. "The single most important thing I can do," he said, "is to help in any way I can to prepare the next generation of leadership to take up the baton and to take their own crack at changing the world."
One of the pressing problems he addressed was gerrymandering, and he told them that this fact is moving "the political parties further apart." He also expressed a concern about the polarization of the media, and one of the young African-American girls was particularly vocal on this point, suggesting rather than relying on social media for information we ought to go back to the old way.
"All the information coming from the internet is just creating a lot of confusion," she said.
Obama chuckled at her comments, adding his own reservations about cable news.
Although there was a wide range of issues discussed, Obama seemed most interested in the local political environment and how he was nurtured by Chicago. "This community taught me that ordinary people, when working together, can do extraordinary things. This community taught me that everybody has a story to tell that is important."
Basically, the session with the youth was exceedingly cordial, and it was good to have Obama back again with the hope he won't make himself such a stranger during these stressful times when his insight and generosity of spirit are so valuable, so needed.