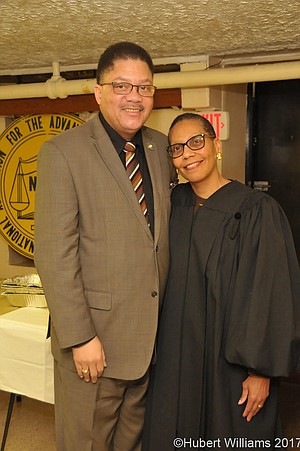 Statements of sympathy and grief for Justice Sheila Abdus-Salaam, in many ways reflecting the ordinary and extraordinary people she touched, are coming in from people in all walks of life. Most of them are expressing shock that the esteemed justice of the State Court of Appeals, the first African-American woman to preside on the state's highest court, is dead. Her body was found floating in the Hudson River Wednesday afternoon.
Abdus-Salaam, 65, was fully clothed in running attire and there were no signs of foul play when her unresponsive body was pulled from the river near the Fairway Supermarket and 132nd Street.
"All of this is rather puzzling since she was a strong swimmer," said former Assemblyman Keith Wright. "I often saw her swimming in Harlem at the YMCA." Wright said he had last seen her Monday on the subway. An MTA MetroCard was found on her body.
The police are speculating that she may have committed suicide. If so, she left no note. According to sources, she was last heard from Tuesday morning. Her husband said her secretary received a call from her saying she wouldn't be coming to work that day.
She might have been undergoing work-related stress, the investigation into her death revealed. Her brother committed suicide three years ago around this same time of year. Her mother committed suicide at 92 years of age in 2012, during the Easter holiday.
The medical examiner will determine the cause of death.
The cause of her life was to serve the people and in this effort she was a "trailblazer," according to Gov. Andrew Cuomo, who appointed her to the court in 2013. Her life in public service, he said, "was in pursuit of a [fairer] and more just New York for all."
Former Gov. David Paterson said he first met Abdus-Salaam 45 years ago. "She was always very spiritual and a simply wonderful person to be around." he said. The last time he saw her "was at a Columbia Barnard Black student reunion in August 2016."
Paterson added, "But, with all her intellectual brilliance and legal scholarship, what most stood out was her personal grace, the way she treated other people, her down to earth manner and the remarkable way in which she carried herself. To paraphrase a favorite poem of mine by Rudyard Kipling, Sheila Abdus-Salaam was one who could walk with Kings and retain the common touch.  I will miss her for the rest of my life."
Speaker Carl Heastie was equally distraught and heartbroken on hearing of her death. "She was highly respected and an inspiration to so many throughout her career," he said in a statement to the press. "Her passing leaves a void that will be difficult to fill. This is a sad day for all New Yorkers,"
"Our hearts ache with the passing of Justice Sheila Abdus-Salaam—a judicial stalwart renowned for her intellect and commitment to the law, morality, fairness and justice," said Seymour W. James Jr., attorney-in-chief at the Legal Aid Society. "She leaves a lasting impact on New York—from her time as a legal services attorney fighting on behalf of low-income families, to her tenure as the first African-American woman to preside on the State's highest court." 
"I am deeply saddened by the loss of State Court of Appeals Judge Sheila Abdus-Salaam," said Assemblywoman Diana C. Richardson. "In her we have lost a public servant, a leader and a woman with an immutable moral code. Salaam's contributions to our community will forever have a lasting impact on the many lives she touched as a champion of impartiality."
Although a public wreath laying ceremony has been planned, the family has asked that their privacy be respected. "While moved that so many of you wish to be in direct contact with us during this difficult time," said the Rev. Canon Greg Jacobs, the justice's husband, "we respectfully request that the privacy of our family be respected and that all further inquiries be directed to the New York Court of Appeals Public information office."