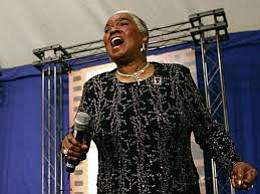 In one way, Linda Hopkins cannot be considered among our treasured distant ancestors because she died Monday, April 10. But given her propensity to summon the icons of the past, none more illuminating than Bessie Smith, Hopkins is one for the ages. Yes, she could channel Smith's larger-than-life presence onstage and in song, but Hopkins had her own compelling persona, one that earned her a gallery of awards and commendations.
Noted New York Times music and entertainment critic Walter Kerr captured Hopkins' power and essence when commenting on her performance in "Inner City," a musical based on Eve Merriam's "Mother Goose" tales. Kerr was not that impressed with the musical itself, but when it came to Hopkins he said effusively, "Just let a lady named Linda Hopkins stand there all night, tapping one foot slightly, opening her composed mouth to let miraculous sound come out of it, reaching out her arms to the balcony as though to complete its curve and make the world come full circle, shaking her head very slightly in deep private worry as she stalks to the portals, done with a song. She is magnificent."
That's a loving mouthful from Kerr, and he has splendidly evoked a typical moment in which Hopkins was able to display the might of her creativity, to project just the right amount of sonority of voice and performance to transport an audience to that special place she inhabited. The performance brought her a Drama Desk Award and a Tony Award for the best actress in a musical in 1972.
The first world Hopkins inhabited was New Orleans, where she was born Melinda Helen Matthews, Dec. 14, 1924. Her father, Fred, was a deacon at St. Mark's Baptist Church. He died just before she was born. Her mother, Hazel Smith, was a domestic worker. At the age of 3, standing on a crate, she was a feature attraction at her church with the choir. Eight years later, already demonstrating her command, she invited the great Mahalia Jackson to perform at a fundraiser at her church.
On this occasion, Hopkins expressed an uncommon maturity, so much so that Jackson was not aware she was conversing with a young girl. After arriving, Jackson was astounded even further when Hopkins boldly chose to sing one of Jackson's signature songs, "God Shall Wipe Your Tears Away." In effect, this performance was an audition, and Jackson immediately arranged for Hopkins to join the Southern Harps, a female gospel group based in New Orleans. For more than a decade, she was a mainstay in the group and their voices are heard to great notice on King Records.
In 1950, she moved to Oakland, Calif., where she directed choirs in churches throughout the Bay Area. Her career took a dramatic turn after an audition at a local nightclub. Slim Jenkins, the club's manager, hired her.
Gradually, with a growing confidence, she began to expand her repertoire, particularly after absorbing herself in the blues and the music of Bessie Smith. Smith's version of "Empty Bed Blues" was among the tunes that were a major influence on her desire to capture the magic of her idol. By the mid-50s, after receiving a recommendation from Little Esther Phillips that Hopkins be her replacement in Johnny Otis' band, Hopkins (and it was during this period that she truly became Linda Hopkins and no longer Helen Matthews) had the platform and opportunity to delve deeper into Bessie Smith's style and delivery. Soon, as a member of a historical revue, The Jazz Train, Hopkins was presented with another plateau to portray her devotion to Smith and the blues. Her duet with Jackie Wilson, "Shake a Hand," bolstered her reputation, and her popularity zoomed to new heights.