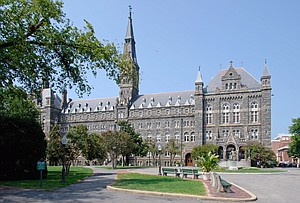 (CNN) -- There is wide gulf, Frederick Douglass wrote in 1845, between Christianity proper and the "slaveholding religion of this land." One is "good, pure and holy," the other corrupt and wicked, the "climax of all misnomers, the boldest of all frauds."
"We have men-stealers for ministers, women-whippers for missionaries and cradle-plunderers for church members," Douglass wrote in "Life of an American Slave."
For Douglass, as for other African-Americans, the sin of slavery was intolerable; the complicity of Christians unforgivable.
On both counts, the Jesuit order, one of the Catholic Church's most powerful group of priests, (Pope Francis is a member) was guilty. In the United States and elsewhere, the Society of Jesus, the orders formal name, owned and sold slaves.
One of those sales, in 1838, of 272 slaves, was made on behalf of Georgetown University in Washington. It saved the fledgling school, but ruined hundreds of lives, tearing families asunder, condemning men, women and children to lives of cruel bondage.
On Tuesday, the Jesuits and Georgetown repented. In a "Liturgy of Remembrance, Contrition and Hope," hosted at Georgetown, the university's president and Jesuit leaders issued emotional mea culpas 179 years in the making.
"We express our solemn contrition for our participation in slavery, and the benefit our institution received," said Georgetown's president, John DeGioia. "We cannot hide from this truth, bury this truth, ignore this truth. Slavery remains the original evil in our republic, an evil that our university was complicit in."
More than 100 descendants of slaves sold by the Maryland Jesuits attended the service, many wearing green ribbons to symbolize hope and new life. They processed in Healy Hall to the strains of "Amazing Grace," sung by a gospel choir. Some wiped away tears during the readings and prayers, and stood to applaud when Mary D. Williams-Wagner, a slave descendant, read Douglass's remarks about Christian slave-holders.
"Their pain was unparalleled, Sanda Green Thomas, another slave descendant, said of her ancestors. "Their pain is still here. It burns in the soul of every person of African descent in the United States."
Georgetown is not the only American college with ties to the slave trade. All of the Ivy League schools, with the exception of Cornell University, were also complicit in some way, historians say. Many those schools were also founded by religious groups.
But some American Jesuits in the United States say their slaveholding past is particularly painful, especially as they see racism's lingering stains on modern society.
"This isn't just a Maryland issue," said the Rev. Timothy Kesicki, president of the Jesuit Conference of Canada and the United States, the society's top official in North America. "In a sense, all Jesuits in the United States are descendants of those Jesuits who made the decisions to hold slaves and in this case sell slaves. We don't look at as their sin; we look at it as our sin."
In his homily, Kesicki offered a contrite counterpoint to Douglass' denunciation of Christian slaveholder.
"When we remember that with those 272 souls we received the same sacraments; read the same Scriptures; said the same prayers; sang the same hymns; and praised the same God," he said. "How did we, the Society of Jesus, fail to see us all as one body in Christ? We betrayed the very name of Jesus for whom our society is named."