Recipe: Mushroom-topped roasted asparagus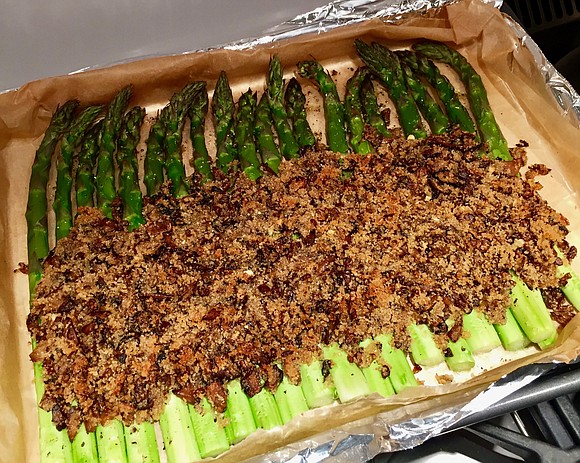 We mustn't forget about the side dishes at the holiday table, especially because spring has sprung and all of our favorite vegetables are back and better than before. Here is my recipe for my favorite, roasted asparagus with mushroom breadcrumbs.
2 tablespoons extra-virgin olive oil, divided
2 tablespoons unsalted butter
1 pound mushrooms (white button or baby bella), wiped clean, caps diced
½ teaspoon fresh thyme, roughly chopped
1 large clove garlic, minced
½ cup whole-wheat breadcrumbs or seasoned breadcrumbs
2 bunches asparagus (approximately 2 pounds), trimmed, bottoms peeled
¼ teaspoon salt
¼ teaspoon ground pepper
1 teaspoon lemon zest
Preheat oven to 425° F.
In a nonstick pan combine 1 tablespoon oil and butter in a skillet set over medium heat until foamy. Add mushrooms and sauté until they release their water and begin to brown, approximately 10 minutes. Add thyme, garlic, season with a little salt and pepper to taste and sauté for 1 minute until fragrant. Add breadcrumbs, toss until coated and continuously sauté until breadcrumbs are toasted. Remove from heat. Taste and
re-season as needed.
Toss asparagus, remaining oil, salt and pepper in a large bowl. Spread out on a rimmed baking sheet. Roast in the center of the oven until tender, 8 to 10 minutes.
Remove the asparagus from the oven. Sprinkle breadcrumb topping on the asparagus. Place the pan back into the oven for 2-4 minutes (can also broil for a couple of minutes, but watch it!). Top with lemon zest to serve.