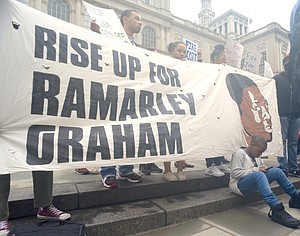 Wednesday, April 12, the family of Ramarley Graham and several supporting organizations announced the filing of a lawsuit against the NYPD for refusing to comply with the state's Freedom of Information Law on what would have been Graham's 24th birthday. The parties had submitted a FOIL request in September 2016 for records pertaining to the killing of Graham and the related misconduct by multiple officers involved in his killing and its aftermath. The NYPD has been refusing to fully comply with the legal request, a request that can provide his family and the public with essential information on Graham's killing and NYPD misconduct. The move begins another legal battle against the de Blasio administration regarding its compliance with the state's open records law.
"My son should be celebrating his 24th birthday today, but instead my family is being forced to continue fighting for justice because the de Blasio administration has shown no real commitment to justice for him and Black lives like his," said Constance Malcolm, the mother of Graham. "With this lawsuit, we are demanding that the de Blasio administration and NYPD stop hiding the truth of what happened to my son and release the names and files related to the many officers who were responsible for misconduct. For over five years, it seems there has been a continued effort by the NYPD to cover up what really happened to my son and protect the officers involved from accountability."
Gideon Oliver, the civil rights attorney who filed the initial FOIL requests and is filing the lawsuit on behalf of the family and supporters stated, "Filing this lawsuit today is just one step in challenging the NYPD's political decision to continue to keep Mr. Graham's family and community supporters in the dark about the vast majority of the facts and circumstances around Ramarley's killing and related NYPD misconduct by refusing to comply meaningfully with the New York Freedom of Information Law and related laws. We hope the NYPD will reconsider its position and release the records sought. Otherwise, we intend to move the case forward quickly."
The family and their supporters also demanded accountability from de Blasio. They demanded the firing of the two other officers charged in Graham's killing, Sergeant Scott Morris and officer John McLoughlin, not allowing them to retire like Richard Haste. Morris was the ranking officer on the scene at Graham's home when he was killed and failed to intervene or prevent the unlawful entry, killing or other misconduct from occurring. McLoughlin was responsible for kicking down the door to the family's apartment, precipitating Haste entering, shooting and killing Graham. After more than five years while these officers have accrued pay increases, no departmental trials were scheduled despite their being charged by the NYPD in 2012. Graham's family and community supporters also called for the several other officers who engaged in misconduct related to Graham's killing to face departmental charges and be fired.
"My family and I want closure and justice for our communities with accountability for all of the officers responsible for misconduct, but the de Blasio administration keeps on doing what's in its political interest instead of what they know is right," Malcolm continued. "The officers who engaged in the killing of my son and misconduct related to it need to be fired. The NYPD must announce the start dates for trials into Sergeant Scott Morris and officer John McLoughlin, who have already been charged, and bring disciplinary charges against all other officers responsible. We need accountability and transparency—release all of the information and release it now."