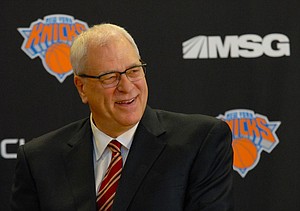 The Knicks ended their long and disconcerting 2016-17 season last night at Madison Square Garden hosting the Philadelphia 76ers, one of the only handful of teams with a worst record than them. The Knicks entered the game 30-51, the sixth lowest mark in the NBA, just slightly better than the 28-53 Sixers.
It would be superfluous to extensively revisit why the Knicks failed to meet the expectation of making the playoffs established by the organization's primary decision makers, coaches and players. To encapsulate, they were a poor defensive team, they never formed a symbiotic offensive identity and second-year forward Kristaps Porzingis fell short of making the leap from promising rookie to authentic rising star.
So now the Knicks, who are a non-playoff team for the fourth straight season, are back to square one. Team president Phil Jackson's and general manager Steve Mills' blueprint of adding veterans Derrick Rose, Joakim Noah, Brandon Jennings and Courtney Lee to the core of Carmelo Anthony and Porzingis with the vision of being a low playoff seed was a reasonable platform.
They foresaw the new additions adding enough production on both ends of the floor to augment Anthony and Porzingis, as well as compensate for the aforementioned duo's weaknesses, to elevate the Knicks to a playoff contender in a less than formidable Eastern Conference. On paper the Knicks had the makings of a 41- to 44-win team. A look at the final regular season standings today frustratingly reveals—if one is a member of the Knicks organization or a fan—that 42 wins, only one game over .500, would have secured a postseason bid.
It's near certain that Jackson and Mills will assume a significantly different approach in shaping the Knicks for next season and the years that follow. Jackson signed a five-year, $12-million contract to become the Knicks' president in March 2014, so he has a few more years to leave a positive, indelible mark on the franchise. Moreover, owner James Dolan adamantly stated in early February he has no intention of firing Jackson before the end of his contract.
The first order of business is this June's NBA draft. Based on their record, the Knicks have a high probability of owning one of the top six picks, and Jackson and his scouting department have shown keen eyes for capable young talent. In what will be a gifted 2017 draft class, the Knicks could be the recipient of a player with All-Star potential.
Jackson and his staff should be commended for acquiring rookies Willy Hernangomez and Ron Baker. At 6-foot-11 and 250 pounds, the 22-year-old Hernangomez, a strong candidate to make All-Rookie First Team, is poised to grow into one of the most efficient front court players in basketball. The 24-year-old Baker, a shooting guard at Wichita State, transitioned to point-guard this season and demonstrated he can be a significant player for the Knicks.
Yet Porzingis can be the true difference maker. He doesn't need to reach the lofty and premature predictions by a plethora of voices of being a top 10-15 player in the league, currently a questionable outlook. But it is imperative that the 21-year-old forward/center becomes a consistent impact player both offensively and defensively and that he physically and mentally develops into a player who can put the team on his back and will them to victories when necessary.
Lastly, does Anthony stay or does he go? Anthony has unfairly received too much blame for the Knicks' struggles. But a decision has to be made this summer on his status with the team. Anthony and Jackson have to determine if the franchise is better served with him remaining or creating a win-win scenario in which Anthony waives his no-trade clause and is dealt to a championship contender in return for draft picks and a solid young veteran rotation player.
There are many moving parts to the Knicks' fix. It is undoubtedly a painstaking process. Yet realistically their cup is half full.