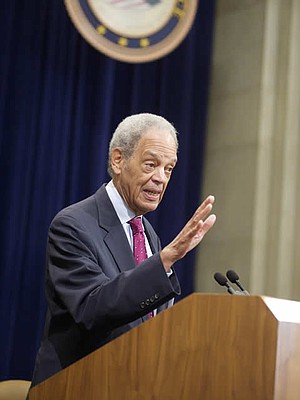 It took Roger Wilkins a while to settle into the world of journalism, where his famous uncle and father had established enviable reputations, but once there he made his mark and reached deeper precincts of the mainstream media than his predecessors. Wilkins, for some time the sole high-ranking African-American in the Kennedy and Johnson administrations, died Sunday, March 26, a day after his 85th birthday, in a care facility in Kensington, Md.
According to his daughter, Elizabeth, Wilkins died from complications of dementia.
There was a time in the '60s and '70s when Wilkins was a first-call Black commentator on network television and radio, summoned to offer his analysis on the latest racial conflict in the nation. He spoke with a consistent calm that didn't always please the militant African-American voices, but at least he was a Black face among the white pundits.
Being a Black man in the white world was something that Wilkins worked to great personal advantage, as well as for certain communities of Black America. When urban revolt rocked the country, Wilkins became the peacemaker, most memorably dispatched by President Johnson to pacify the upheavals and to counsel his superiors on what steps to take to offset further disturbances.
To that end, he was much like his uncle, Roy Wilkins, who had a similar role at the helm of the NAACP from 1955 to 1977. But, unlike his uncle, Wilkins was able to get closer to the powerbrokers, able to provide them with information curried from various quarters of the Black struggle.
Born in Kansas City, Mo., Wilkins was a product of a solid middle class family with a father, Earl, who was a journalist, and a mother, Helen, who was the first Black national president of the Y.W.C.A. He was 9 years old when his father died and he moved with his mother to Grand Rapids, Mich., where he graduated from high school.
At the University of Michigan, Wilkins earned his bachelor's degree (1953) and three years later his law degree from the school. For a brief spell he was a social worker in Cleveland and an attorney in New York City, before joining the Kennedy administration.
In the Kennedy administration, Wilkins was a special assistant to the head of the Agency for International Development. From this position he played a critical role in the passage of the Civil Rights Act of 1964 and the Voting Rights Act of 1965.
On several occasions, Wilkins was interviewed about this turbulent period with the Kennedys, who he said were forced to react on the side of civil rights, although not without a dash of ambivalence. "The Kennedys wanted [it] it both ways," Wilkins told one reporter. "They wanted to appear to be our friends and they wanted to be the brake on our movement."
Wilkins' work with the Kennedys prepared him for his tenure with the Johnson administration, where he was a troubleshooter sent to negotiate with the contending forces of urban unrest. These assignments were never easy, and he was often caught between a rock and hard place. Many will recall his interview in "Eyes on the Prize," the powerful television series on the Civil Rights Movement. Wilkins was asked to summarize the turmoil of the 1967 rebellion in Detroit. He recounted a harrowing circumstance in the midst of the rebellion. While driving along one of the main streets, his car was pulled over by a convoy of state police. He was asked to step out of the car. Suddenly, he recalled, "I was circled by people with long guns and pistols and they were all pointing at me."