Ahmed Kathrada, South African activist dies at 87
Ron Scott | 4/6/2017, midnight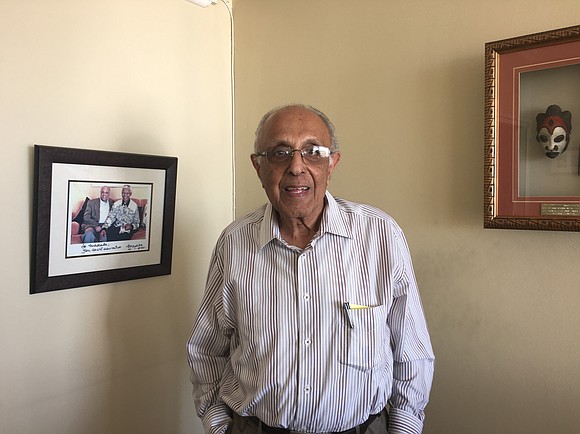 When I learned that this humble man of fortitude who was an integral force within the long battle to end apartheid in South Africa died March 28, in Johannesburg, it was a very sad moment for me. He was 87.
His unrelenting commitment to ending oppression and apartheid was equal to that of Dr. Martin Luther King Jr. and Malcolm X in their struggle against racism and inequality in America.
Last year during my South African visit to cover the Cape Town Jazz Festival, I met an activist in Johannesburg, who upon learning I was a journalist from the United States noted to my friend without hesitation, "He needs to interview Ahmed Kathrada."
She quickly agreed and within a half-hour an appointment was set up through Kathrada's assistant for the next day. Being an ignorant American, I was embarrassed that his name was not in my vocabulary like those of the apartheid resistance advocators Nelson Mandela, Steve Biko and Walter Sisulu.
It became quite evident it was going to take a lot of research to get me through this interview. Fortunately, my friend is South African and up on her politics, so she supplied me with crucial details.
The more conversations we had about this great man, the more nervous I became. By morning, insecurity and anxiety had found a new home in my system.
We were met at the door by his assistant, who offered us a seat in his sunny living room. As Kathrada entered the room to greet us, I felt a calm aura surrounding him that released all my anxiety, although some nervousness remained.
Even before his release from prison (Pollsmoor Oct. 15, 1989), Kathrada was one of the significant voices against oppression and apartheid in South Africa. He and his comrade and good friend Nelson Mandela became known throughout the world, as was demonstrated at his recent funeral.
He shook my hand and offered a warm smile as he asked how America and President Obama were doing. In his position as chairman of the Robben Island Museum, he often gave tours to special guests such as Fidel Castro, the Clintons, President Obama and Beyoncé. Since his release he had visited the prison and now museum at least 300 times. President Mandela also appointed him as his adviser.
At age 34, Kathrada was the youngest of the Rivonia Trial defendants that included Mandela, Govan Mbeki, Walter Sisulu and Raymond Mhlaba, who were given a life sentence with hard labor and sent to Robben Island Prison (1964).
In 1946, he joined the passive resistance campaign against the "Ghetto Act" that restricted where Indians could live, trade and own land.
The campaign was organized by the South African Indian Congress and its leading organizer, Dr. Yusuf Dadoo. He was one of Kathrada's important influences. Under his tutelage Kathrada met and became friends with the emerging African National Congress leaders Mandela, Sisulu and Oliver Tambo.
He left school at age 17 to work full time in the offices of the Transvaal Passive Resistance Council. He was arrested that same year.