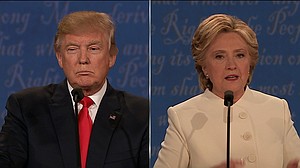 Video by C-SPAN
(CNN) -- Donald Trump on Wednesday refused to say he would accept the result of the presidential election if he loses to Hillary Clinton, raising the possibility of an extraordinary departure from principles that have underpinned American democracy for more than two centuries.
"I will look at it at the time," Trump said when asked during the final presidential debate whether he would concede if he loses on November 8, following his claims that the election is "rigged" against him.
He added: "I will keep you in suspense."
The comments at the Las Vegas showdown marked a stunning moment that has never been seen in the weeks before a modern presidential election. The stance threatens to cast doubt on one of the fundamental principles of American politics -- the peaceful, undisputed transfer of power from one president to a successor who is recognized as legitimate after winning an election.
Trump's debate performance could doom his chance to win over any remaining undecided voters at this late stage in the campaign. His comments about the election results came during a debate in which he spoke of "hombres," language that could offend Latinos. And he referred to Clinton as a "nasty woman."
His campaign manager sought to blunt the election comments, appearing on CNN's "New Day" Thursday.
"What Donald Trump has said, over time, if you take all of his statements together, he has said that he will respect the results of the election," said Kellyanne Conway, although she argued what he's saying is not without precedent.
"Everybody, including Al Gore in 2000, waits to see what those election results are," she later added, although it is a flawed comparison; Gore's fate was in the hands of an automatic recount, according to Florida state law due to the narrow margin of George W. Bush's lead. Gore did not question the integrity of the election before Election Day.
The election remarks also expose a divide with Republican vice presidential nominee Mike Pence, who told CNN's Wolf Blitzer before the debate, "We'll certainly accept the outcome of this election."
Democratic nominee Hillary Clinton, who is leading Trump in most polls, said her competitor's remarks were "horrifying" and accused him of taking refuge in the idea that any event that turns out against him -- even an Emmy award that goes to a rival -- is "rigged."
"That is not the way our democracy works," Clinton said. "We've been around for 240 years. We have had free and fair elections. We've accepted the outcomes when we may not have liked them. And that is what is expected of anyone standing on a debate stage during a general election."
She continued: "He is denigrating -- he's talking down -- our democracy. And I for one, am appalled that somebody who is the nominee of one of our two major parties would take that kind of position."
Trump's remark about the election result is certain to dominate the aftermath of the debate with only 19 days to go before the election, and it seemed likely to overshadow the GOP's nominee's strongest performance in any of the three presidential debates.