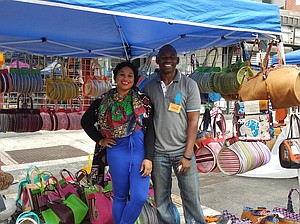 The place to be last Saturday, Oct. 8, 2016, was Restoration Plaza in the center of Bed-Stuy, Brooklyn. Harriet Tubman Ross Avenue, aka Fulton Street, from Marcy Avenue to Tompkins Avenue was blocked off as hundreds of people filled the street for the 10th annual Restoration Rocks festival, hosted by the Bedford Stuyvesant Restoration Corporation.
Everyone came out to shop with the vendors and listen to the music of Fantastic Negrito (Xavier Dphrepaulezz), David Ryan Harris and Bed-Stuy's own DJ Reborn on the "One and Twos."
All day our community came together for a good time. Food was being served, and traditional African prints, clothes, bags, handmade objects were all for sale. There was more, because to top it all off, there was the great live stream music. Despite the rain drops, the festival was a fun way to relax while increasing artistic diffusion and informing people with African Diaspora cultural literacy.
Former Assemblyman Al Vann was seen chatting and dancing with members of the community. Activists there enjoying the scene included December 12th Movement's Viola Plummer and Loretta Vaughan, Sonny Abubadika Carson's Committee to Honor Black Heroes member Atim Ferguson, Nation of Islam member Daleel jabir Muhammad and young entreprenurial youth activist Joshua Walker and his Avenue Music Group.