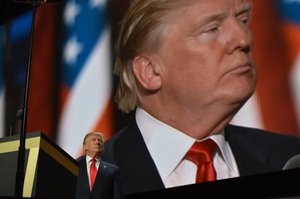 Whether within governmental circles or on the alt-right or the extreme right, danger lurks, particularly for America's Black and Brown citizens. As President-elect Donald Trump summons his cabal, a veritable confederacy ready to carry out his repressive campaign promises, there is a nether wing, equally menacing and eager to fulfill the misdeeds left unattended by the Trump administration.
It's foreboding enough that Trump has tapped Sen. Jeff Sessions of Alabama to be the next attorney general, a man who has described the Voting Rights Act as a "piece of intrusive legislation"; Steve Bannon, the former head of the reactionary Breitbart News as the White House senior adviser; General Michael Flynn as the national security adviser, a man who has expressed no empathy for Muslims; and Rep. Mike Pompeo, who was relentless in his drilling of Hillary Clinton during the Benghazi hearings, at the helm of the CIA
These selections have given the alt-right and other fringe groups on the right an additional boost of invectives, more impetus in their recruitment drives and the cover they need to continue the cultural wars that began against the Obama administration, which had witnessed a phenomenal increase in militias and other hate groups, according to the Southern Poverty Law Center.
Trump was barely celebrating his victory when it was announced that the Ku Klux Klan would be marching in North Carolina. The Loyal White Knights are planning to parade Dec. 3 in Pelham, N.C. According to a notice on the group's website, "Trump's Race United My People."
Last Saturday in the nation's capital, a white nationalist group called the National Policy Institute assembled for its annual conference, with their leader Richard Spencer making it clear where they stand in relationship to Trump's victory. "I think moving forward the alt-right as an intellectual vanguard can complete Trump," Spencer said. "We can be the ones who are out front, who are thinking about things that he hasn't grasped yet." With Trump in power, Spencer and his cohorts believe they have the right man to ensure their push, their nativist position and their opposition to the increasing tide of immigrants.
Echoing Spencer's sentiments was Jared Taylor, the founder of the white nationalist publication American Renaissance. "In the long," he said, "people like Bannon and Trump will be open to the clarity of our ideas."
For his part, despite his rhetoric being seen as inspirational for much of the recent hike in hate and harassment, Trump, during a recent appearance with Lesley Stahl on "60 Minutes" asked for a cessation in hate crimes and attacks. "I am so saddened to hear that," he told her of the incidents. "And I say, 'Stop it.' If it—if it helps. I will say this, and I will say it right to the cameras. Stop it."
It may be too late for his admonitions, and there are too many who believe he's being disingenuous, that he only said that for the benefit of the cameras, while saying something completely the opposite in his selections for his cabinet.