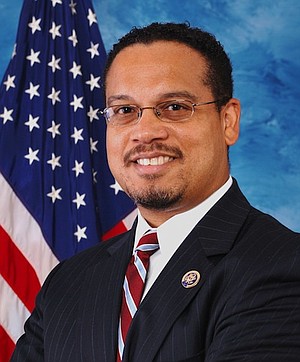 The Democratic Party hasn't had this little control in federal government since the early 20th century, but one man wants to save it from itself.
This week, Minnesota Democratic Congressman Keith Ellison entered the race for chair of the Democratic National Committee. Ellison is the first Muslim ever elected to Congress and he is also the first Black congressman from the state of Minnesota.
In a statement announcing his bid, Ellison stated, "It is not enough for Democrats to ask for voters' support every two years. We must be with them through every lost paycheck, every tuition hike and every time they are the victim of a hate crime. When voters know what Democrats stand for, we can improve the lives of all Americans, no matter their race, religion or sexual orientation. To do that, we must begin the rebuilding process now."
Last year, Ellison (in a video that has been circulated on social media ever since), told George Stephanopoulos and other political pundits on ABC's "This Week" program that Trump has a chance of not only winning the Republican nomination, but also winning he presidency.
"If anybody from the Democratic side of the fence … who's terrified of the possibility of President Trump … they better vote, better get active, better get involved because this man has got some momentum and we better be ready for the fact that he might be leading the Republican ticket," said Ellison.
Stephanopoulos laughed at him and said, "I know you don't believe that."
Ellison has already received support from elected officials all around the country, including New York State Attorney General Eric Schneiderman, who addressed his support for Ellison in an emailed letter.
"In 2011, I was a newly elected state Attorney General demanding, over resistance in both parties, that the federal government fully investigate the financial institutions that caused the crash of the housing market in 2008," wrote Schneiderman. "Keith Ellison was one of the few Democratic leaders who had my back. He convened a meeting on Capitol Hill so that I could make my case to members of Congress. We were ultimately successful, and the joint state-federal working group that I now co-chair has recovered close to $100 billion from the banks. Keith played a key role in making that possible."
Schneiderman said that Keith knows that Democratic success starts via grassroots organizing locally, statewide and nationally.
"As DNC Chair, Keith would build on the progressive Democratic ideals that a vast majority of Americans support, with a renewed focus on grassroots organizing to rebuild and re-inspire the Democratic Party," Schneiderman stated.
Ellison had already started to carry himself like a DNC chair Monday when he called out Trump for hiring Breitbart publisher Stephen Bannon as his senior advisor.
"After addressing his supporters, the president-elect should turn his attention to the man he's selected to run his White House: Stephen Bannon. Mr. Bannon has called the Pope a 'commie,'" said Ellison. "He has referred to the Civil War as the 'war of Southern Independence.' He referred to liberal, college-educated women as 'a bunch of dykes.' And sworn testimony in a legal case alleged Mr. Bannon was a domestic abuser and that he stated he 'didn't want [his children] going to school with Jews.' Mr. Bannon is adored by white supremacists, white nationalists, anti-Semites, neo-Nazis and the KKK. It's not hard to see why."
Ellison continued, "If the president-elect is serious about rejecting bigotry, hatred and violence from his supporters, he must rescind Stephen Bannon's appointment. This man shouldn't be allowed to visit the White House—let alone run it."