Feds to review North Charleston police
Eliott C. McLaughlin, CNN | 5/16/2016, 1:38 p.m.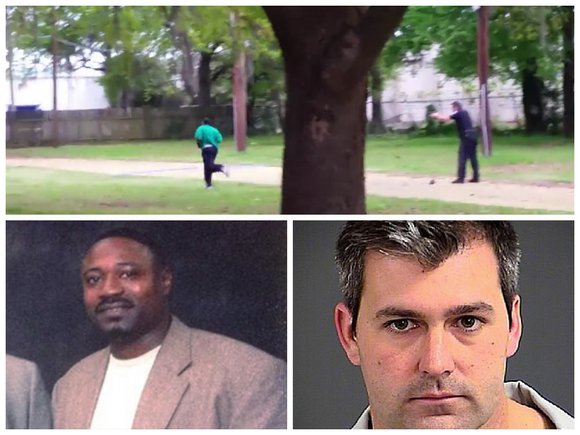 (CNN) -- The feds are expected to announce a review of the North Charleston, South Carolina, police department Tuesday, according to a U.S. Justice Department news release.
The reason for the review was not immediately clear, but it comes more than 13 months after former Officer Michael Slager fatally gunned down Walter Scott following an April 2015 traffic stop. Slager was caught on mobile phone video firing into Scott's back as he fled.
While several cities have drawn criticism for their responses to police officers killing unarmed black men, North Charleston and South Carolina were largely applauded for their handling of the Slager case.
Slager was charged with murder shortly after the shooting. The police department then fired him, and a grand jury indicted him on the murder charge.
The South Carolina Legislature passed a bill mandating the use of body cameras in June. In October, the North Charleston City Council agreed to a $6.5 million settlement with Scott's family.
And last week, a federal grand jury handed down an indictment.
"Every step along the devastating story of Walter Scott has been history," Scott family attorney L. Chris Stewart told CNN.
Slager has pleaded not guilty to both the local and federal charges. His defense team has said he shot Scott after the two tussled over Slager's Taser.
Community policing unit performing review
Unlike widely publicized reviews in Cleveland, New Orleans and Ferguson, Missouri, this review is not being conducted out of the Justice Department's civil rights division. Rather, Monday's announcement came from the department's Community Oriented Policing Services office, which is "responsible for advancing community policing nationwide."
U.S. Attorney Bill Nettles, COPS Chief Noble Wray, Mayor R. Keith Summey and Police Chief Eddie Driggers are expected to attend Tuesday's announcement.
A call and an email to North Charleston police spokesman Spencer Pryor were not immediately returned.
In February, the Justice Department announced a COPS review of the San Francisco Police Department, saying that city officials and community members had requested an examination of the department's "use of force policies and practices."
At the time, a news release said, the COPS office was providing "collaborative reform" in Milwaukee, Philadelphia, Spokane, Washington, St. Louis County, Missouri; Salinas, California, Fayetteville, North Carolina and Calexico, California. It had just completed the process in Las Vegas, it said.
CNN's Devon M. Sayers contributed to this report.