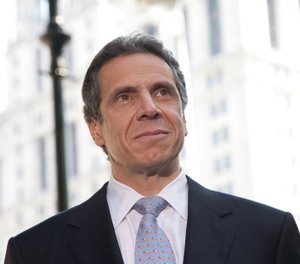 Dear Governor Cuomo:
We are writing to applaud you for including early voting and automatic voter registration in your 2016 "Built to Lead" agenda, and to encourage you to make those issues a priority this legislative session. On behalf of the Lawyers' Committee for Civil Rights Under Law—a nonpartisan, nonprofit organization that seeks to secure equal justice for all through the rule of law, with a particular focus on the inequities confronting African-Americans and other racial and ethnic minorities—we strongly support improving and modernizing New York's elections systems. We believe that the early voting and automatic voter registration policies you are proposing are important building blocks that will help to make our state a leader in voter participation and election administration.
First, we want to emphasize how crucial these reforms are to voters in our state. Many New Yorkers who unsuccessfully attempted to participate in past elections would have been able to vote if these reforms had been in place. Many of us have worked on the Lawyers' Committee's nonpartisan Election Protection efforts and spoken directly to voters who were unable to vote due to our state's current voting laws. Below are experiences shared by New York voters through Election Protection during the most recent election cycles that demonstrate the need for these reforms.
In 2014, 125 New York voters called Election Protection inquiring about early or absentee voting options less than a week before the general election. The deadline to request an absentee ballot by mail, however, is one week prior to Election Day. All 125 voters were unable to obtain an absentee ballot by mail, and many were likely unable to vote as a result.
A home health aide in New York City called Election Protection to share a story that is all too common. She wanted to vote but would have to spend all of Election Day working in a different borough. It was impossible for her to get to her polling place, and it was too late to obtain an absentee ballot by mail. If in-person, no-excuse early voting had been available, she would have had a convenient option to vote. Early voting would have allowed many others to vote as well, despite the challenges posed by work, family obligations or other emergencies.
Many New Yorkers faced such an emergency in 2012 when Superstorm Sandy hit one week before Election Day. As you are well aware, in addition to the immense destruction Superstorm Sandy caused in our state, it also disrupted the ability for millions to vote. While you and election officials around the state took heroic steps to ensure that voters could cast their ballots, early voting could have provided voters with the opportunity to vote before the storm hit and reduced the number of voters whose ability to vote was impacted. New York City even implemented early voting the weekend before the election as a way to help manage the issues created by the storm. Furthermore, over 8,000 first responders, including military personnel and power company crews from other states, were forced to choose between returning home to vote and remaining in storm-affected areas to continue relief efforts. Providing early voting would help ensure that New Yorkers do not face that choice if they are called upon to help those in another state recover from a disaster.