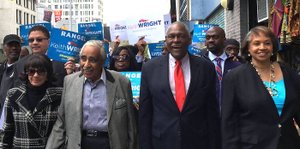 The Congressional Black Caucus endorsed Keith Wright on Saturday.
"Keith Wright has fought hard to protect affordable housing, raise wages and create jobs for working families," said the members of the Congressional Black Caucus in an official statement. "He is the right choice to continue the work of retiring Congressman Charlie Rangel and will be a representative in Congress that we can be proud of."
"I am honored and grateful to receive the support of the Congressional Black Caucus," said Wright. "I have always worked to stand up for every American and will continue to fight discrimination in any form and deliver needed federal resources to my community."
The endorsement of the Congressional Black Caucus today adds to the growing list of many public officials supporting Wright, including Gov. David Paterson, Mayor David Dinkins, Congressman Charles Rangel and Council Member Inez Dickens.