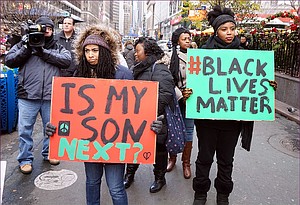 (CNN) -- A football coach from Charlotte, a project manager from Florida and a teaching assistant from Iowa. Three people from three different backgrounds with a dedication to three different causes. But there's one thing that united them this year: They were among the thousands who took to the streets across the nation and captured the moment for social platforms.
Here's a look at three of the year's biggest protests through the eyes of the three, as they reflect on that day and what came after.
Charlotte's night of chaos
Zach Locke remembers it vividly: the pungent taste of the tear gas, the ringing sound of gunshots and the chaos and confusion of a city erupting in anger.
It was September 21 and Locke, along with his roommate, joined hundreds of others who had descended on Charlotte to protest the fatal police shooting of Keith Lamont Scott. Before Scott, there had been Alton Sterling and Philando Castile. After Scott, there would be others. Frustration had been bubbling. Black lives matter, echoed the chants from Baton Rouge to Minneapolis.
Locke is a local football coach and he and his roommate were practicing when Scott was shot on September 20. He remembered seeing squad cars speed past them and a chopper fly overhead.
"I think it kind of hit us, because it happened just down the road from us," Locke told CNN.
And so, he marched the following night.
"Honestly, neither of us knew what to expect," he told CNN. "We just kind of wanted to be there. We wanted to witness and take part in a huge moment for our city and community.'
But then, the night took a sharp turn. A peaceful protest turned into a disorderly riot.
"I heard gun shots. All hell broke loose," he recalled. "I can't stress enough how much that night got out of control."
One protester was shot and killed by someone and a police officer was injured.
Locke saw people break into businesses. He saw police toss tear gas and flash bangs into the crowd.
"It brings back a lot of emotions. Confusion and pain are probably amongst the two strongest," he said. "There was so much pain and hurt on display that night. The whole city was on edge. I'll never forget those moments."
Locke wishes things hadn't ended the way they did that night.
"To be clear, these were two separate events: a peaceful protest that created a difficult and real conversation around race relations, police violence, and big societal problems. And an ugly, unorganized, and violent-turned-deadly riot that undermined the earlier protest."
North Dakota's water warriors
Sanjay Patel is a project manager for a biotech firm who lives in Satellite Beach, Florida. That's a good 2,000 miles away from Cannon Ball, South Dakota, where thousands of protesters stood this year with the Standing Rock Sioux tribe and against a proposed pipeline.
Patel and his wife flew there three times. They had to, he says: "Our Native American brothers and sisters had put a call out for people to come stand alongside them in their fight for sovereignty and clean water. As Martin Luther King once said, 'Injustice anywhere is a threat to justice everywhere.'"