Derrick Rose pushes the limits amid the Knicks' resurgence
Jaime C. Harris | 12/1/2016, 9:52 a.m.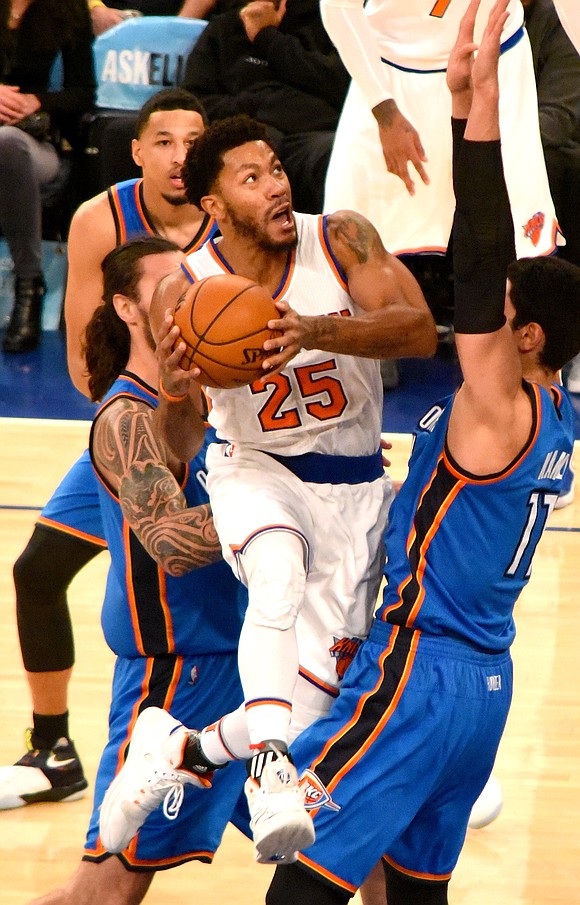 Monday night at Madison Square Garden, Derrick Rose confronted what for many is an unnerving image of his former self in the person of Russell Westbrook. Rose and Westbrook have been close friends for the past decade. They train together in Los Angeles during the offseason and have a kinship that in part has been forged by the commonality of their unmatched athleticism at the point-guard position.
Both Rose and Westbrook are listed at 6-foot-3 and are arguably the two most physically gifted players to ever occupy what is generally referred to as the one, or lead guard role. But Rose's multiple right knee injuries that limited him to only 100 out of a possible 328 regular season games from the 2011-12 season through the 2014-15 campaign, including missing the entire 2012-13 schedule, has left Westbrook without peer.
So when the pair took the floor Monday at MSG as Rose's Knicks hosted Westbrook's Oklahoma City Thunder, in many respects, the 28-year-old former Chicago Bulls star was facing his former self. Westbrook affirmed his unmatched status with a remarkable 27 points, 18 rebounds and 14 assists in carrying the Thunder to a 112-103 victory. "It's always fun to play against a player like that," Rose said of Westbrook afterward. "He's so dynamic with what he does and how he plays."
Before his injuries, Rose was inarguably one of the top five players in the NBA. His ranking was solidified after the 2010-11 regular season when he became the youngest MVP in league history at 22 years old, averaging 25 points and 7.7 assists per game and commanding the Bulls to the Eastern Conference Finals, where they lost to LeBron James' Miami Heat 4-1.
Rose's battle with Westbrook Monday revealed that he is still an elite athlete, not quite on par with the early leader for this season's MVP, who is averaging an Oscar Robertson-esque 30.9 points, 11.3 assists and 10.3 rebounds as of Tuesday, but only a few notches below, and certainly more powerful and explosive than most point-guards. Rose finished with an eye-opening 30 points, five rebounds and seven assists of his own in 38 minutes, despite being unsatisfied with the game's outcome.
"That 30 [points] don't mean nothing when you lose," Rose bemoaned in the Knicks' locker room. "The way we lost, there wasn't any grit, there wasn't any grind. We can't play like that period." Indeed, the Thunder were more physical and determined, imposing their will on the Knicks from the outset, led by the indomitable 28-year-old Westbrook.
The loss ended the Knicks' six-game winning streak at home and dropped them to 8-9 going into last night's game (Wednesday) versus the Minnesota Timberwolves on the road. They'll meet up with the Timberwolves again tomorrow night at the Garden before a 7:30 p.m. matchup Sunday at home against the Sacramento Kings.
Ironically, at the same time last season, the Knicks were 8-10 and only won 24 more games on their way to a dismal 32-50 record. But this season should be different. In some ways, it feels as if there is a resurgence taking place with the Knicks. The development of Kristaps Porzingis into a potential All-Star, the infusion of Rose and Brandon Jennings, the growth of rookies Willy Hernangomez and Mindaugas Kuzminskas and the reliable contributions of Carmelo Anthony should make for a playoff contender.
For Rose and the Knicks, the qualifier is they must stay relatively healthy. It's something Rose says he doesn't obsess over. And as he goes head-to-head with Westbrook, at the moment, he has little reason for concern.