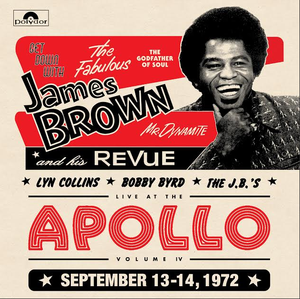 A long-lost gem from the "Godfather of Soul" has been unearthed for the world to hear.
In the lead up to Record Store Day earlier this month, Get On Down/Universal released the vinyl edition of "The James Brown Revue: Live at the Apollo Volume IV," a recording of one of his many Apollo Theater shows that was never released to the public.
Between 1963 and 1971, Brown released three concert albums recorded at the Apollo Theater, with the first volume considered among music aficionados to be one of the best live albums of all time. Each volume (II released in 1968 and III released in 1971) showcased Brown and his interplay with highly talented musicians such as Maceo Parker, Clyde Stubblefield, Lyn Collins and Bobby Byrd.
Polydor Records recorded Volume IV on two nights in September of 1972 but decided to keep the concert record in the vaults for decades.
James Brown fans, and fans of music, will appreciate what they hear.
Judging by the track list, Volume IV was meant to showcase Brown's favorite collaborators and vocalists, which should remind the listener that Brown (like the recently deceased Prince) was a great talent scout as well as a talent himself.
The J.B.'s are featured here performing five songs, including "Pass the Peas," "Hot Pants Road" and "Gimme Some More." Byrd is on the album as well, with electrifying performances of "I Know You Got Soul" and "Keep On Doin' What You're Doin'." Collins almost steals the show, on an album full of strong performances, with her performances of "Think (About It)" and her covers of The Staple Singers' "I'll Take You There" and Isaac Hayes' "Do Your Thing."
The godfather himself is on here as the main attraction for only two tracks ("Never Can Say Goodbye" and "There It Is"), but the album is Brown through and through. Whether he is showcasing the talent in his band, showcasing the talent of other artists or showcasing himself, everything affiliated with Brown is first class funk, soul and grit throughout.
With the album now out on vinyl, musical completists should snatch up a copy as soon as possible.