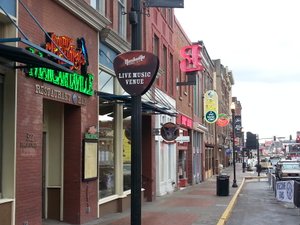 Sophistication, a wealth of culture, outstanding attractions, fantastic music and more are what you will find in Nashville.
As we learned in the first part of this travel series, Nashville, situated an approximate three-hour drive from both Memphis and Louisville, four hours from Atlanta, four-and-a-half-hours hours from Indianapolis and five hours from St. Louis, has continued to come into its own since it was founded 1779. And every aspect of the landscape here offers unique insights into what made the city and surrounding area what it is, and what draws both new residents and visitors alike.
One of the most historic attractions in town is The Hermitage: The Home of President Andrew Jackson, a former self-sustaining 1,000-acre plantation where hundreds—the numbers varying from more than 100 to close to 500—of slaves toiled, primarily in cotton fields. Some historical accounts seem to suggest that the slaves here had some control over their daily existence, based on artifacts found here over the years, such as photos, fishing tools, weapons and other items. A tour of the property today includes the garden and grounds, Jackson's Tomb and an interpreter-led tour of the mansion, built in 1821.
Belle Meade Plantation, built in 1845, also played a pivotal role in the history of slaves in the area. Along the plantation grounds, you will find the original Greek Revival mansion, a log cabin, carriage house, dairy, gardens and horse stable among other structures.
Tying the "Athens of the South" moniker to Nashville today is Centennial Park and the Parthenon. Part art museum with a plethora of 19th and 20th century American paintings and part homage to the original Parthenon in Athens, Greece, Nashville's Parthenon was built for the state's Centennial Exposition in 1897. Inside is an amazing full-scale, 42-foot replica statue of Athena, from which the Greek city draws its name. The surrounding 132-acre park also encompasses historical monuments, Lake Watauga, a sunken garden, an events shelter, an exercise trail and one-mile walking trail, the Centennial Art Center and other recreational entities.
Just a few minutes drive outside of town, you will find the spectacular Cheekwood Botanical Garden and Museum of Art. Named after the Cheeks, one of the city's early entrepreneurial families, which is also the name of the residential area in which it is located, the 55-acre grounds are bursting with flora and fauna in a handful of specialized gardens, including an Herb Study Garden, the Martin Boxwood Gardens, Japanese Garden, Wills Perennial Garden, Burr Terrace Garden and Robinson Family Water Garden, just to name a few, plus the almost one-mile-long Carell Woodland Sculpture Trail.
The museum is set inside the original 30,000 square foot Georgian-style mansion and features a wealth of temporary, traveling and permanent exhibits focusing on American and English decorative arts, contemporary sculptures and paintings and other artistic genres and mediums.
MUSIC TO YOUR EARS
The Country Music Hall of Fame and Museum, which we explored in our last feature, is not the only great place to learn about the music and personalities that helped make Nashville what it is today.