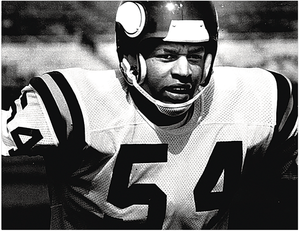 In the mid-1970s, the Minnesota Vikings football team had a defensive unit called the "Purple People Eaters" because of the color of their uniforms and their ferocity. Linebacker Fred McNeill was among the team's most punishing tacklers, often vanquishing foes with brutal, head-on hits. It was the accumulation of those collisions that may have been the cause of the later ailments he suffered after 12 years in the National Football League.
McNeill was 63 when he died Nov. 3 at a nursing home in Southern California. For several years he had been battling dementia and finally succumbed to complications related to amyotrophic lateral sclerosis, also known as Lou Gehrig's disease. He was apparently doing all right, according to his friend and former teammate Matt Blair, who last visited him in August. "But after I left, he was put in this 24/7 hospital for ALS. That's the thing that really got into his system."
Getting into an opponent's system or their offensive plans was McNeill's assignment on the gridiron, and few did it better and with such hard-hitting results. Some of those jarring tackles— an overall total of 1,000—could not have been delivered without negative repercussions or concussions. Almost from the season he was drafted by the Vikings as the team's first-round pick out of UCLA in 1974, McNeill established himself as a fast and durable defensive linebacker.
Born Frederick Arnold McNeill May 6, 1952, in Durham, N.C., he grew up in Los Angeles. Here, at Baldwin Park High School, he was a versatile athlete, excelling at track, basketball and football. At UCLA, he led the team with 89 tackles and was selected as the first-team all-American in 1973. In 2012, he was inducted into the UCLA Athletics Hall of Fame.
"Our rookie year was our best year," Blair told a reporter. "After that first year, we stayed in the same apartment. … I went to L.A. to meet his family, and we became great friends and hung out together." He said they were more than teammates. "We were like brothers."
Other brothers among the Purple People Eaters were Jim Marshall, Carl Eller and Alan Page. Their motto was "Meet you at the quarterback," denoting their sacking of the thrower. With McNeill at 6-foot-2 and 229 pounds spearheading the unit, they reached the peak of efficiency in 1975 and 1977, where they were defeated in the Super Bowl. One outstanding moment in the loss to the Oakland Raiders in 1977 was McNeill's block of a Ray Guy punt—something that had never happened before.
During his career, McNeill played in 167 regular season games and 13 playoff contests. After one of the games, he told doctors that he felt dizzy after a hard tackle. That condition, he said, lingered for several weeks. He retired from the Vikings in 1985. Two years later he graduated from the William Mitchell College of Law in St. Paul. Despite the recurring headaches and dizziness, he joined a law firm and began practicing law. He was admitted to the California bar in 2000.