Brooklyn community hosts powerful meeting on Black Solidarity Day
Lorraine A. Ustaris | 11/5/2015, 11:14 a.m.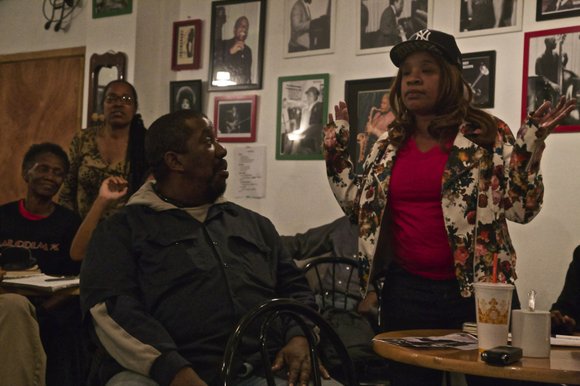 Monday evening, members of the Brooklyn-based December 12th Movement congregated at Sistas' Place to celebrate Black Solidarity Day and to continue organizing their response to the "Justice or Else" demand of the 20th anniversary of the Million Man March.
"Black power for Black people," said Omowale Clay, who led the meeting. "This is a mass campaign. This Christmas, we don't shop."
Rallying for a citywide boycott of holiday consumerism this year, volunteers from the group spent the day raising awareness and distributing flyers in the Bed-Stuy neighborhood. Their shopping strike heeds the call of Nation of Islam leader Minister Louis Farrakhan, who urged attendees of October's 10.10.15 Million Man March to boycott the economics of Christmas.
In 2013, a Nielson report predicted that Black spending in America would increase to $1.1 trillion by the end of 2015. "They've put us into the position of funding our own oppression," said Clay.
Still, recognizing the deep-seated consumer habits of many in the Black community, the group predicts folks will likely be divided in their response to the campaign against holiday shopping—some supporting it, some ignoring it. Members discussed media's role developing such consumer habits and ways to combat its influence.
Local artist and activist Priscilla Amado identified a need for educational outreach, saying, "Beyond Christmas, we need to be conscious of where we are putting our money. Education will give some life, so that it is a long-term thing, a consciousness shift."
The chapter's call to action intensified last week after the appearance of a viral video that captured the violent arrest of a Black South Carolina teenager in her math class.
When Clay asked members to share their thoughts on the meaning of Black Solidarity Day, Amado reflected, "For some reason, one of the things that comes to me is just the blatant attack that is taking place on our people, and the intent on breaking us apart and the need for solidarity."
Another member, Brooklyn housing lawyer Alfred Toussaint, expressed similar sentiments about the necessity of unity to reconcile the Black community's most recent traumas, "It's important for us to connect with our community organizations … and be in solidarity with the work they are doing."
Sistas' Place regularly hosts gatherings for the December 12th Movement, consistently providing a space for building the unified group Amado and Toussaint described. Proclaimed an honorary landmark for expanding and deepening the appreciation of jazz by the New York Assembly, the venue does that and much more.
"This place is your home. Come anytime," said spokesperson Clay of Sistas' Place. "That's why we built us this place—to be a cultural institution and a cultural weapon for our people."
With walls decked with the movement's words and framed images of Nina Simone, John Coltrane, Malcolm X, the "Little Rock Nine" and many jazz greats and civil rights legends, Sistas' Place appears as a safe haven, especially for community members such as Sheltering Arms juvenile counselor Tiffani Perkins, who came to her first meeting Monday and was lauded for her vocal participation.