Dr. Ben makes his transition, funeral details announced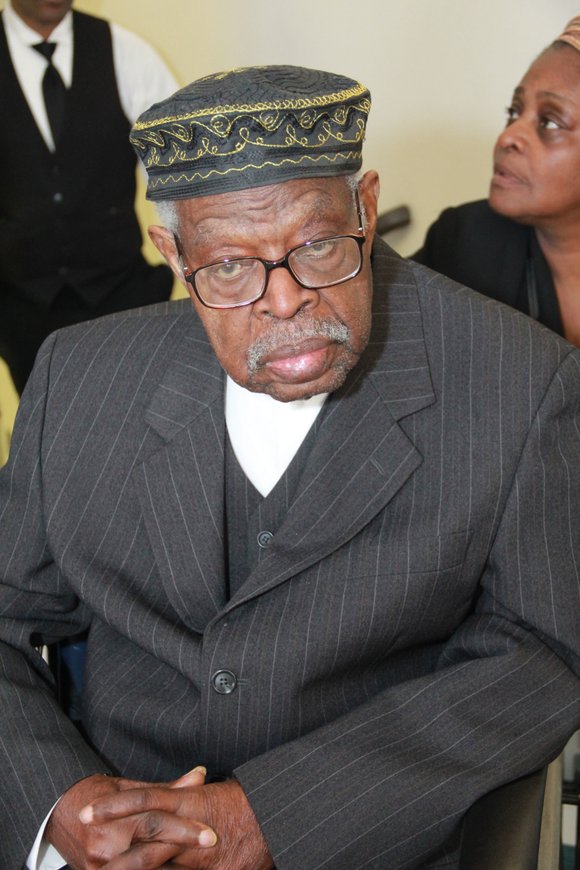 "He is our king. He is our 'Nisut Bity' [pharaoh] and he was our father." These were the words of Alfredo, Ruth, Dawn, Naomi and Kwame (Johannes), the children of the now late Dr. Yosef Alfredo Antonio ben-Jochannan.
The tributes have been numerous and are continuing for the Black Man of the Nile. Having known "Dr. Ben," as he is affectionately known, for many years from England to the U.S., this journalist was asked to attend the meeting and bear witness to the proceedings during the organizing of his funeral. As of press time, therefore, the Amsterdam News can announce that the viewing will take place Thursday, April 9 from 4 p.m. to
Home-Going/Funeral Services for Dr. Yosef Ben-Jochannan
Thursday, April, 9 2015
between 4 and 8PM
Abyssinian Baptist Church
132 W 138th St,
New York, NY 10030
(212) 862-7474
Friday, April, 10 2015
9:30AM-12:30PM
Abyssinian Baptist Church
132 W 138th St,
New York, NY 10030
(212) 862-7474
Ferncliff Cemetery
280 Secor Rd,
Ardsley, NY 10530
"The viewing and the funeral will be at the historic Abyssinian Baptist Church," professor James Smalls told the Amsterdam News. "We ask that the community respects the decision of the family as they make these final arrangements."
"The family of Dr. Yosef Ben Jochannan extends their sincere thanks, appreciation and gratitude to all for your continued love and support," Dawn Johannes told the Amsterdam News."The family is finalizing funeral arrangements to honor and celebrate the life and legacy of their beloved father."
It will no doubt be a grand affair, with scholars, students and friends and family of this amazing educator traveling from all over the world to attend the services.
"We want the rights of a king," said Ruth Johannes.
Tuesday, March 24, to help plan some of the details at Clarke House in Harlem, Smalls joined the family and community members, including Dr. Leonard Jeffries; attorney Rudyard Whyte; National Action Network General Counsel Michael Hardy and Manhattan Liaison Beverley Alston; Clifford B. Simmons of the Blue Nile Rights of Passage; Minister Louis Farrakhan's New York representative, Minister Abdul Hafeez; Imam Al-Hajj Talib 'Abdur-Rashid, head of the Mosque of Islamic Brotherhood; Paul Coates, head of Black Classic Press, Inc.; and activist Queen Nasir.
"It was a meeting with family members and community leaders where the decision was made to go forward with a date in mid-April," said activist Brother Reggie Marbry. "We are asking the community who are anxiously asking for details to give the family time to organize these final arrangements."
March 19 at 3:30 a.m., the great Egyptologist made his transition. He was 97 years young, and the master teacher was surrounded by his family at Bay Park Nursing Home in the Bronx's Co-op City.
There has been a global major out-pouring of condolences for this world-renowned Ethiopian-born historian.
Head of Harlem's Mosque No.7, Minister Abdul Hafeez Muhammad, told the Amsterdam News that on behalf of Minister Farrakhan and the Nation of Islam, he offered "condolences and steadfast prayers for the family of our beloved brother and historian, Dr. Yosef ben-Jochannan."