Dudley Williams: A life well-lived in dance
Zita Allen | 6/11/2015, 11:27 a.m.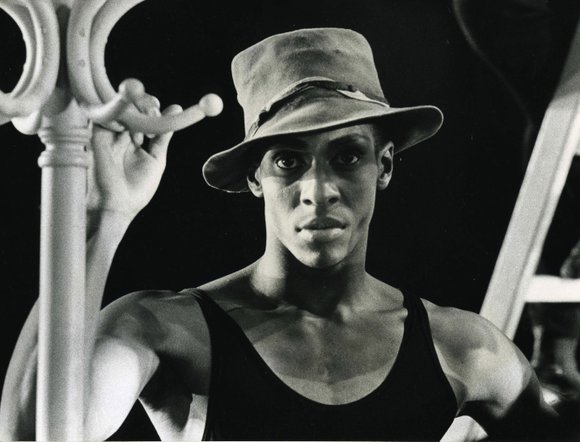 In 2004, when Alvin Ailey American Dance Theater's Dudley Williams was preparing to retire after four decades in dance, an interviewer asked about the unique longevity that characterized his remarkable career. He simply replied, "Good Lord. I love it. I absolutely love it. I think God gave me a talent, and if I don't use it, shame on me. That's the way I look at it. I love dancing. I love performing, and I can still do it. Why not? Why not? "
Why not indeed! When Williams left us several days ago at age 76, he left a remarkable legacy as a brilliant dancer, a beloved teacher (in fact, he was teaching Graham technique classes at the Ailey School until the end) and a gracious, kind and generous man. Throughout his life, writers have remarked on the arc of his unique career almost as much as they waxed poetic over his inimitable ability to sculpt movement that captured the essence of both the choreographer's intent and the musical accompaniment. AAADT Artistic Director Emerita Judith Jamison said, "There is a sprightliness to his movement; there is a dignity and also a wry humor. It's about the quality of his dancing, not how many pirouettes he does."
Over the years, audiences have been mesmerized by his sinner yearning for redemption in the "I Wanna Be Ready" section of Ailey's "Revelations," his lover mirroring both the mood and music of Donny Hathaway's rendition of "A Song for You" and his elegant restraint in Ailey's abstract solo set to Duke Ellington's "Reflections in D," which Ailey himself performed before passing it on to Williams.

While he wore all of Ailey's choreography like a second skin, Williams' most memorable were the solos, which in his hands became sheer poetry, with Ailey's "Love Songs" being what many considered his equivalent of Judith Jamison's star vehicle "Cry." In "Love Songs," whether moving forward slowly or spiraling into a pretzel, arms reaching into the distance, Williams' lyricism turned the air around him into water and himself into a swimmer. One critic said he danced "with a fierce withdrawn fire." Another called it "contained emotion." Whatever it was, it was special.
Not too long ago, Williams sat down with former New York Times dance critic Jennifer Dunning at the Lincoln Center Library for the Performing Arts for a candid recollection. Recalling a conversation with Ailey when he joined the company, Williams explained that the spate of solos might have been the result of Williams once informing the choreographer, "I don't partner."
In 2003, in an article titled,"Can't Stop Dancing to the Music of Life," a Times reporter noted that "while most dancers stop performing around the age of 30 … Dudley Williams is still dancing onstage at 65." Born in 1938, Williams had a remarkable career for anyone but most certainly for a Black man who lived at a time when longevity in any career, let alone in dance, was more the exception than the rule. One can only wonder what his life would have been like had he not found a home with the Ailey company, but what matters is that he did.

Even after he retired from the AAADT, Williams continued to perform, joining dance icons Carmen de Lavallade and Gus Solomons Jr. to form Paradigm Dance Company, which explored the mature dancers' mastery of movement, space and time in a way that, as one critic said, "captured nuance like nobody's business."
Williams was born and raised in Harlem. As a youngster, his father, a carpenter, and his mother, a homemaker, encouraged him to study classical piano, but his persistent passion for dance eventually led to the High School of Performing Arts, then Juilliard and brief stints in the companies of modern dance choreographers Talley Beatty, Donald McKayle and May O'Donnell. Then in the early 1960s, after studying briefly with dance pioneer Martha Graham, he was, along with Bill Louther and Clive Thompson, one of the first Black males to join the Martha Graham Dance Company. Recalling for one reporter his fateful meeting with Alvin Ailey at the Graham school, Williams said, "I was absolutely in awe of Alvin because he was gay and such a beautiful man." In 1963, while he made guest appearances with other companies, the Alvin Ailey American Dance Theater would become his home for the remainder of his life and career. Meanwhile, millions would be blessed to have witnessed something special whenever he performed.
Former Ailey dancer Michele Murray recently recalled when he joined the company, "He was wonderful. I remember sitting there offstage, watching him do one of his solos. We were in awe and almost in tears because he was so beautiful, so musical. He was just a great dancer. They don't make them like him anymore."

To celebrate Williams' remarkable career, the Alvin Ailey American Dance Theater is dedicating its Thursday, June 11 performance to him. In his honor, there will be a special performance of "A Song for You" from "Love Songs."