Rev. Herbert Daughtry: The celebrated sage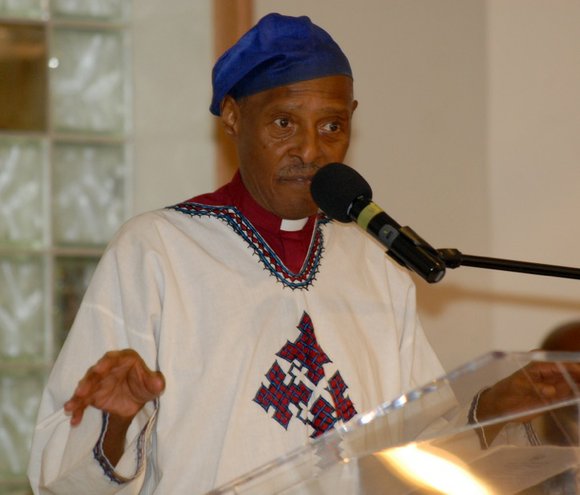 It is not unusual to see the Rev. Herbert Daughtry in handcuffs, protesting for justice. It's one of the many civil disobedience weapons in his five-decades-old arsenal. This celebrated community activist has probably lost count of the thousands of issues he has taken up, or the hundreds of times he has been arrested for a local, national or international cause. From Sudan to East New York, police brutality to inner-city violence, tribal slaughter to presenting scholarships, vicious capitalist exploitation in Africa and officiating inaugurations of promising Black leaders, Daughtry has paved a mighty road toward a grand legacy.
With 55 years of serving various communities worldwide, this man of the cloth will be honored Jan. 31 at his very own historic House of the Lord Church in Brooklyn. There, dozens upon dozens of community, faith, and business leaders will assemble at 2 p.m. to celebrate the life and legacy of "The People's Pastor."
Daughtry has been an advisor and comrade to many, from Tupac Shakur to Afeni Shakur (Pac's mom), Sonny Abubadika Carson and Elombe Brath. He was a key player in the fight against Apartheid in South Africa. He welcomed President Nelson Madiba Mandela when he came to New York City in June 1990. He stood at Mandela's gravesite in 2015.
The Georgia-born Daughtry tells the AmNews, "I'm a son of the world. I'm from everywhere. That's why I have so many different kinds of loved ones, friends and supporters. My strongest roots are in Brooklyn! I think my police record will confirm it, although Jersey City would challenge that dubious distinction."
He was born in Savannah, Ga., Jan. 13, 1931. "I moved to Augusta, Georgia, at an early age. I bounced back and forth between Savannah and Augusta until I was 11 years old. My father, expanding his churches, brought me to Brooklyn when I was 12. Then I moved to Jersey City, where my mother lived. I spent the rest of my life between Brooklyn and Jersey City."
Daughtry is lucky enough to be married to the equally prestigious Rev. Dr. Karen Smith Daughtry.
"I married my wife in 1963," he said, beaming. "After our initial meeting and seeing her several times more, and praying fervently about it for a week, we decided to be married. She's from Englewood, N.J."
His long career of activism began with the civil rights struggles in the 1950s, working with Brooklyn CORE, Youth in Action and Operation Breadbasket. He continued in the fight for community control of schools in the late 1960s alongside the likes of Herman and Iyaluua Ferguson, and Carson. He subsequently helped to found several organizations, including the Black Leadership Commission on AIDS, Association of Brooklyn Clergy for Community Development and Alonzo Daughtry Memorial Family Life Services, which serves the community through innovative programming such as Families of Victims Against Violence and Alonzo Daughtry Memorial Day Care Center, which provides early childhood education under the motto, "Nurturing and Educating the Leaders of Tomorrow." He currently serves as chair of National Religious Leaders of African Ancestry Concerned About Darfur.