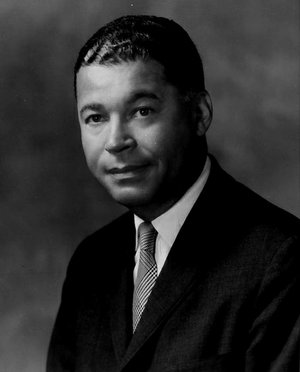 Attaining firsts were hallmarks in Sen. Edward Brooke's remarkable political odyssey, but they were not among his most cherished milestones. More than being the first African-American to hold an office, he preferred to be seen as an elected official who served all the people. And that he did, and now in no way can any argue against such achievements. Brooke, 95, died Saturday morning, Jan. 3, in his home in Coral Gables, Fla.
Among Brooke's many distinctions was his election to the Senate in 1967. A Massachusetts Republican, he was the first African-American ever popularly elected to the U.S. Senate. Hiram Revels and John R. Lynch, two Blacks in the Reconstruction Congress, were appointed by their state legislatures.
Before his congressional victory, Brooke was elected the attorney general of Massachusetts in 1962 and re-elected two years later. He was the first African-American to hold this position in any state.
These firsts were acknowledged by President Barack Obama in his salute to Brooke. He "stood in the forefront of the battle for civil rights and economic fairness," the president said in a statement. "During his time in elected office, he sought to build consensus and understanding across partisan lines, always working toward practical solutions to our nation's challenges."
Brooke's senatorial position may have hindered his ability to participate directly in issues singularly important to Black Americans, in which he represented as such a promising official that the NAACP gave him the prestigious Spingarn Medal in 1967. In 1970, after African-American students were attacked on the Jackson State University campus by Jackson, Miss., police, the Congressional Black Caucus invited Brooke to join them to investigate the matter. He refused, choosing to conduct his own independent study of the incident, which included meeting privately with Mississippi's reactionary governor.
A year later, the CBC staged a boycott of President Richard Nixon's State of the Union Address. Once again, Brooke refused to participate, and this may have been a bit more understandable given his party affiliation.
Though Rep. Charles Rangel had just been elected to office after defeating Adam Clayton Powell Jr., he joined the CBC members in the boycott. Later that year in March, Brooke, according to Rangel, set up a meeting with Nixon and the group presented him with 60 recommendations, including a demand for him not to kill the Office of Economic Opportunity.
Massachusetts Gov. Deval Patrick said that Brooke was a great statesman in keeping with other giants in Massachusetts history, such as John Quincy Adams, Henry Cabot Lodge and the Kennedys. "I have lost a friend and mentor," he told the Boston Globe. "America has lost a superb example of selfless service."
Born Edward William Brooke III Oct. 26, 1919, his father, Edward W. Brooke Jr., was a lawyer with the Veterans Administration. He was proud that he had never experienced any form of prejudice and racism like so many African-Americans.
After graduation from Howard University in 1941, he served in the U.S. Army, saw combat in Italy, was awarded the Bronze Star and was promoted to captain. While he was stationed in Italy, he met his future wife, Remigia Ferrari-Scacco, whom he married in 1947.