DA Thompson's gifts freedom in over dozen overturned convictions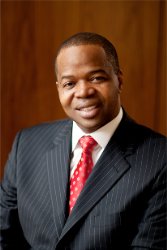 Thompson's mantra is, "Justice should be based on fairness.. … We can't ever undo the damage caused to these men no matter how much money they might get down the road. You can't reverse time. We see it over and over again. Some of them have died in prison. Some have had their children grow up without them. Parents have died, and they have had to live in fear all this time in prison while being incarcerated for something they didn't do for murders they didn't commit. We need to admit our errors in the criminal justice system, and we need to make sure that system is based on integrity. That's what I think is the job of the Brooklyn DA. Seventeen overturned convictions in less than two years I think speaks to my determination to correct miscarriages of justice and re-establishing the faith."
Some of the formerly incarcerated men whose convictions Thompson overturned include Anthony Yarbough, who served 21 years; Darryl Austin, now deceased, who served 13; Derrick Hamilton, who served 21, and David McCallum, who served 29.
"Four people passed away before we could get them out, but we still vacated their convictions," said Thompson.
Thompson does not remain unmoved by the gravity of what he and his office is doing though. "One guy over the summer—we went all the way to Attica to get him out, and sometimes when we show up, they have no idea why we are showing up. And when we say we are there to bring them home because they have been wrongfully convicted, it is something else."
Being in the court room as the judge signs off on these overturned convictions is humbling and gratifying, said Thompson. "To look at those men, and see and them and their families crying, to know that we helped correct a miscarriage of justice is why we do this. We have a real chance here in Brooklyn."
While litigation is an option for many of the formerly incarcerated to get recompense, Thompson said City Comptroller Scott Stringer has made moves to settle some of the cases swiftly.
Said the DA, "This took years in the making, and it is going to take years to restore confidence and correct miscarriages of justice."
Meanwhile, as these men try to settle back into regular life, years stolen from them, Thompson said accountability is going to be hard because of the statute of limitations, many of the allegations having occurred over 20 years ago. Additionally, he said that it is not just the allegedly perjurious actions of one accused detective (his office is looking into almost 60 cases involving now retired Detective Louis Scarcella), but a series of questionable behaviors and actions that has led to a criminal justice system under fire.
It may be an overwhelmed system, it may be jurors, it may just be systemic failure of the participants—either way, Thompson said, he is here to redress it. Setting an example, he told the Amsterdam News, "In October I held a two-day Wrongful Conviction Summit at Brooklyn Law School, and I invited attorneys from all over the country, and they came from far, from California, from Texas, from Detroit, from Georgia, from all over the country. And we talked about wrongful convictions.
"My Conviction Review Unit is perhaps the largest in the country. I have 10 full-time prosecutors who come to work ever day and look at old cases. I think that Brooklyn is leading the country in this movement—a movement of fairness and restoring confidence in our criminal justice system. I don't know what other DA's feel about investigating wrongful conviction cases, I just know that you should not want an innocent person in prison for a murder they did not commit. So I'm to continue to look at murder and non-homicide cases, which potentially allows us to look at thousands of cases."
Thompson said that while all 17 cases have involved men so far, he is most definitely looking into cases involving women.
"I think New York City should lead the country in this endeavor," he firmly predicted.