DA Thompson's gifts freedom in over dozen overturned convictions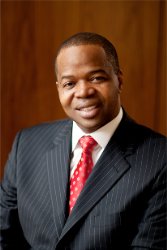 "I feel that it is important to correct miscarriages of justice, and that the people of Brooklyn expect their DA to do so. My objective is to get innocent men out of prison who have been wrongfully convicted, and clear the names of other men," Brooklyn District Attorney Brooklyn District Attorney Ken Thompson told the Amsterdam News, fresh off vacating the sentences of two men who had spent over 30 years in prison for crimes they did not commit.
During this season of thanks, reflection and a fierce collective urgency to do better sits a cadre of men and their families who are especially gratefully—formerly multi-decade incarcerated men who just want to applaud one of the city's top law enforcers.
According to published data, most of New York City's incarcerated population, as of 2012, came from Bed-Stuy, Brownsville, East New York, Harlem and the South Bronx. The numbers did not go unnoticed by Thompson in 2014 after being elected. Addressing inner-city crime, police misconduct and redressing criminal justice imbalances were to be the prime targets of his administration.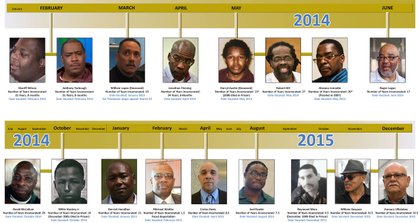 Thompson immediately formed his Conviction Review Unit, "tasked with reviewing and thoroughly investigating convicted offenders' claims of innocence."
To date, a seemingly humble but quietly proud Thompson acknowledged that he has overturned the wrongful convictions of 17 Black and Latino men.
Thompson tells town halls and community gatherings across the city that the Conviction Review Unit is comprised of 10 experienced assistant district attorneys, a team of investigators and legal support staff. The unit is jointly led by professor Ronald Sullivan Jr. of Harvard Law School and Mark Hale, a career prosecutor with over 30 years experience trying homicides and other serious offenses. The unit's work is further reviewed by an independent team made up of three long-tenured attorneys: Bernard W. Nussbaum, Jennifer G. Rodgers and Gary S. Villanueva. To date, the unit's work has led to 17 convictions being vacated.
Just last week, Thompson and his office vacated the 1981 arson and felony murder convictions of three Latino men. As he is want, Thompson met with the men and their families, Amaury Villalobos, William Vasquez and the wife and daughter of the now deceased Raymond Mora.
Thompson stated, "After a thorough investigation, we've concluded that these three men were wrongfully convicted based on weak circumstantial evidence, outdated science and the testimony of a single, wholly unreliable witness who recanted before her death. We will now move to correct this miscarriage of justice. Even though we cannot give these men back the decades that they spent in prison, with one tragically dying behind bars, justice requires that we, as prosecutors, do the right thing and clear their names."
The Brooklyn-based lawman told the Amsterdam News, "One died in prison, one is blind in one eye [glaucoma] and the two survivors spent 32 years in prison having being wrongfully convicted. One is 70 years old, the other is 66. A lot of these wrongful convictions destroy lives. I wish we could have got Raymond out before he died in prison. He died in prison of a heart attack while protesting his innocence."