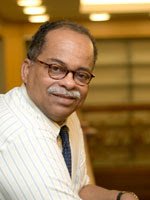 During the recent emergence of prominent African-American public intellectuals, Jerry Gafio Watts was rarely mentioned. His voice was mostly unheard, except for among a coterie of dedicated scholars and teachers, where he was highly admired and deeply respected. Watts, 62, made his transition Nov. 16, according to an obituary posted in The New York Times. No cause was given for his death.
Perhaps best known for his influential "Heroism and the Black Intellectual: Reflections on Ralph Ellison, Politics and Afro-American Intellectual Life" and his work "Amiri Baraka: The Politics and Art of the Black Intellectual," Watts devoted most of his time to nurturing the countless number of students who flocked to his classroom. Besides the students, there was a host of colleagues who sought his counsel during his tenure at the CUNY Graduate Center.
His lectures contained an abundance of scholarship and personal anecdotes that embellished his passionate delivery. Watts was a consummate storyteller and raconteur with an intimate knowledge of African-American folklore and humor.
Watts was an associate professor of American studies at Trinity College when he published his first book on the Black intellectual—a category that he belonged to without reservation. Most memorable about the book were his comments on Cornel West. Watts took exception to West's inclusion of some entertainers in the Black intellectual tradition. In a footnote, he observed, "Certainly, jazz vocalists and preachers are linked to traditions, but they are not for the most part linked to intellectual traditions." Even so, West's blurb cited the book as "superb."
"Superb" was an adjective that applied to most of Watts' research and discourse, and he will be sorely missed in the academy and wherever intellectuals gather to discuss African-American politics and literature. These are topics he knew well after earning his B.A. from Harvard University and his Ph.D. from Yale University.
He is survived by his wife, Traci West, his sister, Brenda Watts, and his brother, Robert Watts. A memorial service will be held Dec. 5 at 6:15 p.m. at the New York Society for Ethical Culture, 2 W. 64th St., New York, N.Y. Call 212-874-5210 for further details.