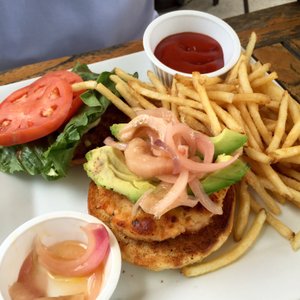 Greetings! I'm writing to you "live" from the beaches of Ocean Bay Park, Fire Island. I am squeezing out every last moment of summer 2015 I can. There's been no long trips, just weekends and even day trips to local towns and areas that are all just a train ride away. Of course, no trip in my book would be complete without a food experience to share with you.
First up was a day trip to Coney Island. A couple of friends and I hopped in the car (also D, F, N, Q trains) to take in some house music on the board walk. After finally finding parking and getting the prerequisite dozen raw oysters and pints of beer from Nathan's, we stumbled upon a sight for sore eyes, Smorgasburg (www.smorgasburg.com). There for our eating pleasure were vendors serving food ranging from mofongo to fish tacos and a visual feast from the Coney Art Walls!
Photos by Kysha Harris
Photo Gallery
Ocean Bay Park Summer East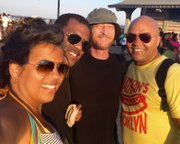 The crew walked around to find their bites. The clear winner was Baja-style fish tacos from El Super Tostadas (@ElSuperTostadas) with a side of watermelon salad with pickled tomatillos, jalapeno and cotija cheese and watermelon mint agua fresca. A lobster roll from Red Hook Lobster (@RedHookLobster) and some damn good handcut truffle fries from Home Frite (@HomeFrite) also felt right at home. Together with great music and company, we were sated for the day!
Feeling a little city-locked, my friend Jason and I decided our next local journey was to spend his final summer Friday hiking Bear Mountain (thanks to a Coach USA day-trip bus from Port Authority), where we were taken to school twice! First we stopped at a nearby vintage diner for lunch. Lesson No. 1: Only order diner food at a traditional diner. Don't get creative with an Italiano-Cubano hot sandwich. Blech! Burgers, grilled cheese, sandwiches, soup of the day—that is the sweet spot. We worked it all off on the hike anyway. Lesson No. 2: Stick to an easy hike if it's your first time out in a while, JASON!
Our treat for a long hard hike Friday was a leisurely drive to Beacon (Metro North to Beacon) Saturday to have lunch at Roundhouse (@RndhouseBeacon, 2 East Main St., 845-765-8369, www.roundhousebeacon.com). We found it on our last visit only after we had eaten. We wouldn't make the same mistake twice.
We sat on the patio of this boutique hotel and restaurant overlooking the adjacent waterfall. The plan was a drink and some apps, but the pole position by the water had us feeling like we were on a riviera of sorts. The menu baited us, too.
We started with oysters on the half shell with ponzu brown-butter mignonette and baby beet salad with burrata, grapefruit confit and wasabi beet puree. That nutty mignonette was everything to those oysters, and just a hint of wasabi changed the profile of a standard roasted beet salad. My thyme lemon cocktail was earthly and refreshing.
Our entrees at Roundhouse, though cursed with the generic name "burger," were anything but. We split the eight-ounce angus Roundhouse burger with Sriracha mayo, caramelized onions and smoked cheddar and the panko-crusted Asian salmon burger with wasabi-ginger aioli, avocado and cucumber red onion relish. Both were served on brioche rolls with the best shoestring fries ever! It was an outstanding first visit to Roundhouse.