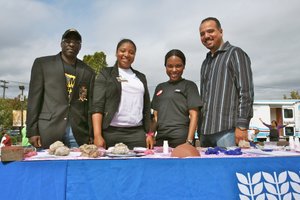 As part of its ongoing health initiatives, the International Christian Brotherhood, a faith-based fraternal organization, will host its annual Men's and Family Health Expo Saturday, Sept. 13, from 9 a.m. to 3 p.m. at the Christian Cultural Center, 12020 Flatlands Ave. in Brooklyn, N.Y. The empowering day will begin with a "Men's Meeting," addressing overall health, spiritual renewal and maintaining a healthy lifestyle. This will include a timely message with a Q and A by Minister Onorio Chaparro, ICB director and maturity division director at Christian Cultural Center.
Immediately after the meeting, everyone can take part in the Men's and Family Health Expo, featuring more than 40 vendors and exhibitors. Free medical services will include blood pressure, diabetes and cholesterol screening, as well as nutritional counseling. Participants also will be able to obtain a variety of health and finance information, including credit and financial stewardship info from Municipal Credit Union, and much more. There will also be live martial arts, weight training and fitness demonstrations.

Study after study shows that men are less likely to seek medical help than women. This can lead to delayed diagnoses, which hinders the treatment of illnesses. Heart disease, cancer and diabetes are the leading causes of death among men. Of the estimated 292,000 African-American men who die each year, half succumb to heart disease and cancer. Prevention and early detection are the best defenses.
The mission of the ICB is to establish a network of Christian men committed to integrity, brotherhood and service. Established in 1997 by the Rev. A.R. Bernard, founder and CEO of the Christian Cultural Center, ICB seeks to strengthen, partner with and establish other men's ministries around the world.