Talking SCHOP! Sides of thanks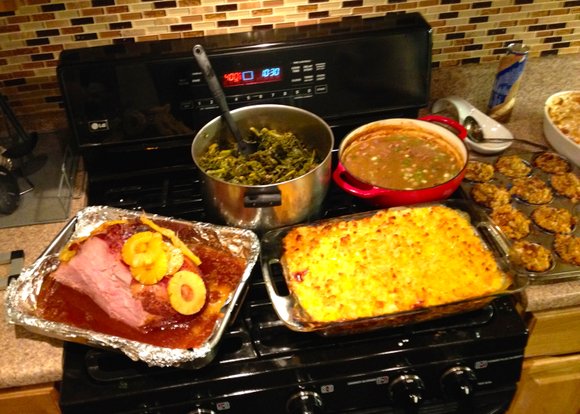 4 medium carrots (3/4 pound), peeled and sliced 1/4 inch thick on the bias
2 large parsnips (1 pound), peeled and sliced 1/4 inch thick on the bias
1 medium head cauliflower (2 1/2 pounds), cut into 1-inch florets
1 small butternut squash (2 pounds, peeled, seeded and cut into 1-inch cubes
1 pound brussels sprouts, halved
1/2 cup extra virgin olive oil
1/4 teaspoon freshly grated nutmeg
Kosher salt and freshly ground black pepper
2 tablespoons minced fresh ginger
1/3 cup pure maple syrup
Preheat the oven to 425 degrees. Spread the pecans in a pie plate and toast until fragrant, about six minutes. Let cool.
In a large bowl, toss the carrots, parsnips, cauliflower, squash and brussels sprouts with the olive oil and nutmeg. Season generously with salt and black pepper. Spread the vegetables on two large rimmed baking sheets and roast for 30 minutes until the vegetables begin to brown. Scatter the pecans and ginger over the vegetables and drizzle with the maple syrup. Toss well. Continue to roast the vegetables for 25 minutes longer until they are tender and golden. Scrape the vegetables into a bowl and serve hot or at room temperature.
OK, so these are all carbohydrates. It's Thanksgiving! I am sure there will be string beans, greens, salads and more adorning your table.
Happy menu planning and thanks for reading!
Kysha Harris is a food writer, culinary producer, consultant and owner of SCHOP!, a personalized food service offering weekly and in-home entertaining packages. Questions? Comments? Requests? Feedback? Invitations? Email her at kysha@iSCHOP.com, follow her on Twitter and Instagram @SCHOPgirl and on Facebook www.facebook.com/SCHOPnyc. For even more recipes, tips and food musings, subscribe to her blog at www.talkingSCHOP.wordpress.com.