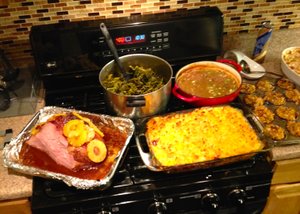 I have returned from an awesome respite in the Caribbean. There is too much to tell you about grocery shopping, cooking, rum tasting and the fine dining experiences had. However, Thanksgiving is upon us, so I must stave off my excitement and refocus my attention to the side … the side of your main dish.
Last week I handed over my turkey recipe to you again, slightly updated for 2014. So I trolled the internet for some fun and festive recipes that whet my appetite to accompany your main dishes. Diets beware!
First up, nothing says "comfort" and "special" more than mashed potatoes perfumed with nutty brown butter.
MASHED POTATOES
Salt
3 1/2 pounds white or all-purpose potatoes, peeled and cut into large chunks
1 stick plus two tablespoons unsalted butter
1 cup milk
1/4 cup creme fraiche
In a large pot of boiling salted water, cook the potatoes over moderate heat until tender, about 25 minutes. Drain well. Return the potatoes to the pot and cook over high heat for one minute to dry them out slightly. Pass the potatoes through a ricer (or mash them well) and return them to the pot.
In a small saucepan, cook the butter over moderate heat until the milk solids turn dark golden, about four minutes. Add all but two tablespoons of the brown butter to the potatoes along with the milk and creme fraiche and stir well. Season with salt and stir over moderate heat until hot. Drizzle the remaining brown butter over the potatoes and serve.
Some corn pudding with white cheddar and thyme sounds like no shades of wrong. Using frozen corn makes it that much easier too!
CORN PUDDING
4 tablespoons unsalted butter, plus more for greasing
1 onion, finely chopped
2 teaspoons minced thyme
4 cups frozen corn kernels (about 20 ounces), thawed
1/2 cup stone-ground cornmeal
Kosher salt and freshly ground pepper
5 large eggs
3 cups half-and-half
1 cup shredded sharp white cheddar cheese
Preheat the oven to 350 degrees. Butter a 9inch-by 13-inch shallow ceramic baking dish. In a large skillet, melt the butter. Add the onion and thyme and cook over moderate heat until the onion is softened, about eight minutes. Remove from the heat. Add the corn and cornmeal and toss to combine. Season with salt and pepper and let cool.
In a large bowl, whisk the eggs with the half-and-half. In a blender or food processor, combine 1 cup of the custard with 1 cup of the corn mixture and puree until smooth. Whisk the puree into the custard. Then stir in the corn mixture, cheese, 2 teaspoons of salt and 1/2 teaspoon of pepper until well blended.
Spread the mixture in the prepared baking dish and bake for approximately 40 minutes, until the pudding is slightly puffed and just starting to brown. Let stand for 10 minutes before serving.
Why not dress up your roasted root vegetables with some maple syrup, ginger and toasted pecans? I would!
ROOT VEGETABLES
1 1/2 cups pecans