Hospitality Jamaica Celebrates 10 Years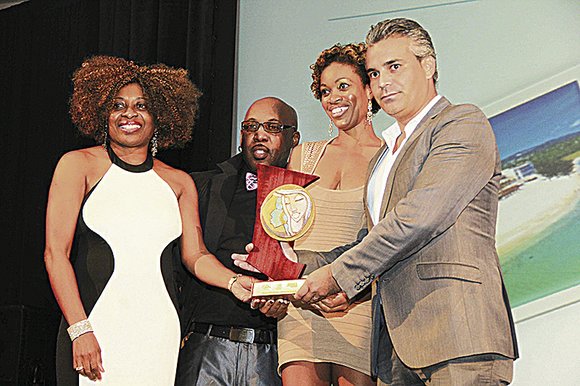 Montego Bay, Jamaica (Oct. 30, 2014)—More than five years ago, I penned a story about the work of Jamaican journalist Janet Silvera, who has kept tourism, the region's bread winner, in the news and business pages of the Jamaica Gleaner and, in so doing, helped connect the Jamaican people to an industry that some across the region view as patronizing and subservient.
"Her stories are well researched and her topics captivating as she thoughtfully breaks the news and drives newspaper sales with her exclusive stories, which cover the length and breadth of the local tourism landscape, as well as the regional tourism environment," I wrote.
Last weekend it was my pleasure to attend the 10th anniversary of the Gleaner's Hospitality Jamaica, a supplement that Silvera has coordinated since its inception.
The event, held at the Montego Bay Convention Centre in partnership with the Jamaica Tourist Board, was a first-class production and featured Jamaica's cultural genius in music and dance, including the versatile Karen Smith, who delighted the audience with her sweet melodies as she walked from one table to another greeting friends and guests in song.
While the evening's attendees paid tribute to Hospitality Jamaica and its coordinator Silvera, the media entity, in turn, saluted the crème de la crème of Jamaican tourism suppliers during an awards presentation.
The storied Half Moon in Montego Bay captured Jamaica's Best EP Hotel Award as well as the Best Eco/Sustainable Hotel Award. Jamaica's Best All-Inclusive Hotel Award went to IBEROSTAR Grand Rose Hall. Jamaica's Best Small/Boutique Hotel honor was awarded to Rondel Village.
According to the judges, Jamaica's best in cuisine can be found at Round Hill Hotel and Villas, and the best entertainment can be experienced at Riu Montego Bay.
Jamaica's best transportation company/destination management company is Island Car Rentals. The best convention facility is Montego Bay Convention Centre. The best purveyor is Rainforest Seafoods. Mystic Mountain is the best attraction.
"Tonight's event is a clear indication that Hospitality Jamaica does not only report on the industry," said Director of Tourism Paul Pennicook. "Through these inaugural tourism awards, Hospitality Jamaica is showing its commitment to the growth of the industry itself."
Pennicook presented the Hospitality Personality of the Year/Ken Kennedy Award to Dr. Cecil Cornwall, president of Western Hospitality Institute.
"(The late hotelier) Ken Kennedy was a visionary and so is Dr. Cornwall, so I could not think of a person who is more suited for such an award," said Silvera, who credited Cornwall for providing educational opportunities for youth interested in the hospitality sector.