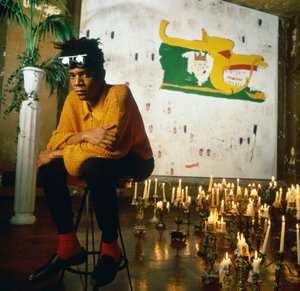 A new work from 1980s contemporary art star Jean-Michel Basquiat will be going up for auction in May. The piece, "Undiscovered Genius of the Mississippi Delta," shows Basquiat's awareness and remembrance of a time in American history considered crude and oppressive. Nonetheless, he chose to highlight literary, artistic and simple historical facts about the time.
The piece is not outside of Basquiat's visual range of work, but it is a very intentional piece that gives homage to an era that was incredibly different from New York City in the 1980s.

"The 1983 mural is heading to Sotheby's next month, estimated to fetch around $20 million when it hits the auction block on May 14 during the Contemporary Art Evening sale. It will accompany seven other works spanning the late artist's short-lived career, billed as a collection of [graffiti group] SAMO's 'most political work,'" the Huffington Post reported.
New Yorkers will have an opportunity to view some of Basquiat's drawings for free at the Acquavella Galleries in New York City. Acquavella Galleries, located at 18 E. 79th St., opened a show of Basquiat's works of art on paper Thursday, May 1, and they will be on view until June 13.
Basquiat died almost 25 years ago at age 27. This Black artist is on track to be revered on the level of Picasso and Jackson Pollock. With his pieces going for $5 million to $20 million, his work is a serious commodity for powerful collectors from around the world.