On the "A" w/Souleo: Wendell Headley, a fashion world outsider comes to the fore
Souleo - | 6/19/2014, 11:45 a.m.
In an unfurnished New York City apartment with bare white walls, Wendell Headley paces the room with an intense energy bordering on unease. He's indoors—at what will soon be the home of an art installation featuring some of his avant-garde fashion designs—but he longs to be outside in the park across the street. It's by traversing the city's public spaces in his sartorial splendor (most notably throughout Harlem) that Headley has become a local legend. He's been content with existing on the periphery for years but the release of a new book, 'Where's Wendell?' and collaborative installation 'New York, Naturally' may be the beginning of bringing his name to a national stage.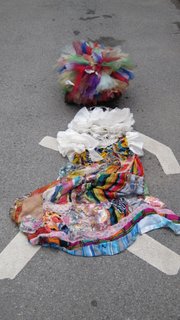 Details on Headley's background are scarce and in an interview he was not forthcoming about the past. The only information provided is that he grew up in and around New York, was a painter in the 1980s mentioned in art periodicals with the likes of Keith Haring and started sewing to overcome substance abuse issues. The result of the latter has been the creation of colorful flamboyant designs where he repurposes materials, sometimes tearing apart and reworking one completed design into something entirely new. It gives the garments an ephemeral quality that is not exactly in line with the fashion world's business model. But Headley could care less. He creates not to sell but to promote a spirit of creativity and childhood innocence, even if he knows many may never understand.
"I am the working class heroes hero," he said. "I am saving middleclass and rich people from their own self-destruction. What makes my clothes a fantasy is nobody could wear them anywhere 'cause they are outside of people's causal imagination. My clothes are about childhood playtime and people grow out of that style altogether."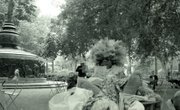 'Where's Wendell?' documents Headley's style and outlook on life through photographs taken by Felicia M. Gordon, founder of the art collective Sugar Hill Culture Club (SHCC). The limited edition book will be released July 2 with a private celebration as part of the exhibition 'If You Build It' presented by No Longer Empty in partnership with Broadway Housing Communities. [Full disclosure: writer is creative director of the project's programming]. In addition Headley plans to lead interactive art and fashion workshops as part of 'New York Naturally', which also features additional work by Gordon and Imani Razat.

New streaming service for African content
It's being dubbed the "Hulu" of Africa to United States viewers but the new platform, Africa Magic GO, has a little more on its agenda than just offering access to the latest in African films and television series. The site, which allows U.S. viewers to stream original content from the continent online for only $8 a month, also hopes to foster a greater cross-cultural exchange.

"Africa is a diverse continent and people living in the U.S. will now have access to stories told from an African perspective. This is an opportunity for Americans in general to see that our cultures enjoy great overlaps," said Wangi Mba-Uzoukwu, regional director at Africa Magic.