Man walks free after being wrongfully imprisoned for 17 years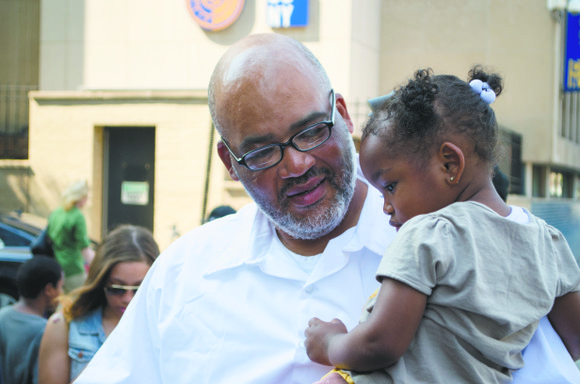 After serving 17 years in prison for a crime he didn't commit, Roger Logan is now a free man.
"It's a feeling that's hard to talk about," he said. "I'm thankful."
Logan, who was wrongfully convicted of second-degree murder in 1997, heard that he would be a free man mere hours before his Tuesday, June 3 court appearance.
Tears flowed from his family's eyes as Supreme Court Justice Matthew D'Emic announced that Logan, now 53, was free to go. He lifted his hands triumphantly, hugged his family and then walked out of the Brooklyn Supreme Court teary-eyed and wearing a smile.
Logan is the seventh person this year to be exonerated, thanks to the efforts of the Brooklyn district attorney's office. Many of the wrongful convictions were due to suspect police work done by retired Detective Louis Scarcella. Now an unprecedented 57 of his cases are under review by the Brooklyn DA's Conviction Review Unit.
Logan said that when he heard about the other exonerations, he knew he had a chance to clear is name.
"Scarcella had something to do with all our cases," Logan said. "I knew that Scarcella had framed me."
When asked if the DA's office would go after the former NYPD officer, a spokesperson from the DA's press office said, "It's not part of [their] efforts at this time."
By the time of his release, Logan had served 17 years of his 25-year sentence. During that time, he had lost his mother and missed the birth of his two grandchildren, now 2 and 7.
Logan says that he now looks forward to life.
"For right now, I'm gonna get out of these, get some fresh clothes on. I may go to dinner and spend time with family and friends and just enjoy it," Logan said.