Distinguished doctor aims to change lives, brings message to Melba's
By KAYLYN KENDALL DINES | 2/27/2014, 9:15 p.m.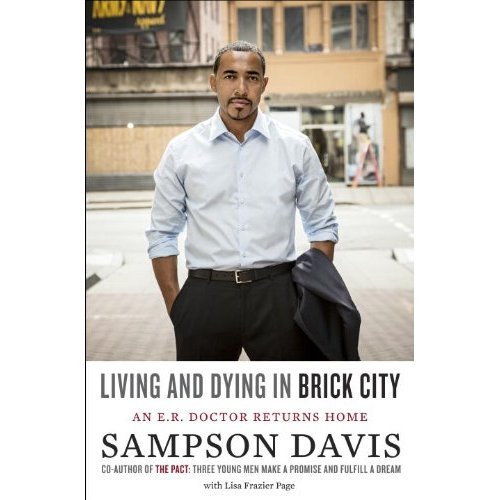 Black History Month marks the paperback release of "Living and Dying in Brick City: An E.R. Doctor Returns Home," a book written by Dr. Sampson Davis. This founding member of the Three Doctors Foundation is a Board–certified emergency medicine physician. He uses his experiences to help change lives. It's a mission that began to soar after medical school when he co-wrote "The Pact: Three Young Men Make a Promise and Fulfill a Dream" with Dr. Rameck Hunt and Dr. George Jenkins. That book became a New York Times Bestseller.
Today, Davis shares stories of being an emergency room doctor who returns to the hospital where he was born in Newark, N.J., to care for families. "Living and Dying in Brick City" is an exploration of the health care crisis in this country with a particular focus on the nation's urban core. He reflects on tragedies and triumphant personal experiences as part of his quest to give back and help the next generation shape its future. This book was selected as the "Common Read" and "First Year Experience" choice by Random House. Davis hopes the Common Core values in the curriculum will spur many educational institutions to incorporate it into health classes.
What is one of his professional dreams? He passionately emphasizes the importance of education to young people. He wants them to think academic excellence is cool. Ultimately, Davis wants to be to "health and education" what President Barack Obama is to politics, what LeBron James is to basketball and Jay Z is to music.
He has been featured on numerous talk shows, including "Oprah," "The Dr. Oz Show" and the "Today" show. He is an Essence Lifetime Achievement Award recipient and, according to Davis, Oprah Winfrey named him "one of the premiere role models of the world."
When he is not treating patients, he tours the country, speaking at colleges, schools, businesses and faith-based and community-based organizations. Following is the voice of someone who refuses to passively sit back. Instead, Davis talks about his experiences as a way to help readers improve the quality of their lives. A Q&A follows.
AmNews: Describe your newest book, "Living and Dying in Brick City: An E.R. Doctor Returns Home." What is your book about?
Davis: In my newest book, "Living and Dying in Brick City: An E.R. Doctor Returns Home," I share the story of my return as an emergency room doctor to the hospital where I was born in Newark, N.J. Through the life-or-death stories of the patients I encounter there, I explore the health care crisis in this country, particularly in the nation's urban core. I share my own reflections of losing friends to gun violence, including one encounter on my first day as a resident in a trauma unit, losing my sister to AIDS, helping my father through a bout with prostate cancer and even talking my reluctant landlord into finally seeing a doctor to care for a painful knee. I also share tips and lifesaving information aimed at helping us all take better care of ourselves.