A City in Crisis: Let us talk and listen— so we can heal
GOVERNOR PATERSON | 12/28/2014, 9:56 p.m.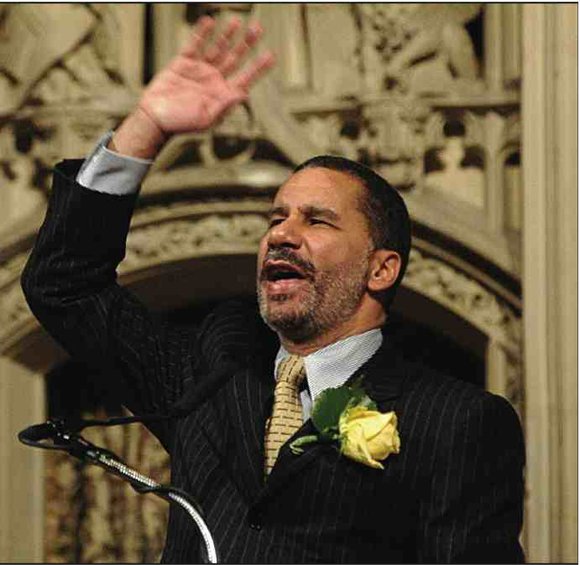 In my public life, I have worked through the massacre on the Long Island Railroad in 1993, the murder-suicide involving Councilman and former police officer James Davis, the murder of Yusuf Hawkins and the shooting of Amadou Diallo, which I thought was a crime. But there was something so evil and malicious about the assassination of two New York City police officers that I have yet to recover from the news of this most recent tragedy. The horrible irony that both of these officers lived in the area where they were gunned down, participated in a special detail to enhance relations with the community, and one of them, Rafael Ramos, would have graduated from his training to become a police chaplain that day, incites even more anger.
Of all the evil that this killer reaped that day, there is one issue that pales against the backdrop of damage that he has done to two loving families but will become more and more obvious over time: that is what this depraved man has done to a movement designed to achieve just treatment for all citizens by law enforcement. The focus of the discussion is rightly the safety of those men and women who wear the uniforms of law enforcement every day.
Members of the police force cannot be blamed if they feel greater anxiety in discharging their duties throughout New York City and even other parts of the country. I understand the anger that they feel about being insulted and derided and in a few cases even attacked by those protesting some recent grand jury actions.
I must suggest, however, that experiencing this justifiable pain may bring many of them a new perspective about the tension and anxiety derived from misconduct by law enforcement in Black communities for decades. There was a time when young Black males were routinely pistol- whipped by police officers for no apparent reason; many of them were not even arrested after the incidents.
There are accounts of public riots in 1933, 1945 and culminating in 1964 after a lieutenant named Thomas Gilligan shot a 15-year-old Black youth named James Powell in Harlem. He kicked his body over with his foot to see if the young man was still alive. This ignited a six-day riot in Harlem similar to the two previous incidents.
Oddly enough, I do not blame the police department entirely for such incidents. Job discrimination, inadequate health care, poor housing, failing schools, and elevated prices in supermarkets and clothing stores highlighted an oppression that touched the lives of all Black citizens. The police, who lived outside the area, were the ones sent in to maintain order; their heads filled with stereotypical images of the Black families who lived there.
My suggestion for healing in this troubled time is that rather than reciting the bill of particulars for our grievances, all New Yorkers engage in self-reflection. That awareness needs to extend no further than these two principals: (1) Unless you are a member of law enforcement, you can never empathize with the danger that they and their families feel whenever an officer or captain is on duty; and (2) unless you have lived in the communities where the law-enforcement practices differed from the usual and felt the anguish that Black mothers and fathers experience when their children are away from home, you really cannot relate or even understand what that reality is.
So I propose a treaty for all to consider during this holy period. Let's take each other's word for it and recognize that we never really understood the positions of those who have had different experiences and trust that when so many people feel the same way—in various cities across this county, they are telling the truth. The changes in policy and practice will flow easily after we reach this moral plain.